LariTryck doubles up on Mark Andy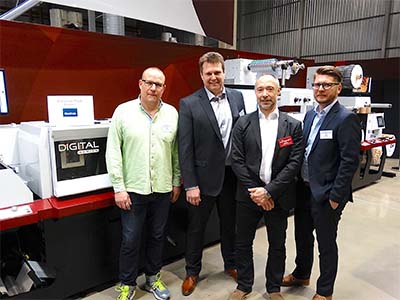 (L-R) Bjorn Claren and Johan Ripa of LariTryck with Joakim Marcusson of Convertec and Timo Donati of Mark Andy with the Digital Series press ordered at the Open House.
Swedish label converter LariTryck AB has added to its existing flexo capacity with a fourth Mark Andy Performance Series P7 and a new Digital Series inkjet hybrid press platform.
The company's machinery already includes three Mark Andy Performance Series P7 and two 2200 presses located at plants in Nässjö and Bjuv.
Commenting on his $2m investment, LariTryck CEO Johan Ripa said: 'The Mark Andy P7 presses have allowed us to grow our business year on year by 15% so we urgently need extra flexo capacity. But when I watched the live demonstration of the Digital Series I could immediately see how it could open opportunities for us in new markets. Of all the manufacturers of digital print technology, Mark Andy has the best understanding of the label market, and I am excited about our prospects with the Digital Series hybrid press.'
'To secure a P7 flexo order and Digital Series at the same time was a real bonus, and will undoubtedly move Johan Ripa and his team up to the next level of excellence,' commented Joakim Marcusson, speaking for Convertec, Mark Andy's agent in Scandinavia.
The Digital Series specification mirrors that of the demonstration machine in Warsaw, which has a 330mm web width, one flexo unit before Mark Andy's own CMYK+White inkjet module and two flexo units after, leading to a QCDC module – the concept being to print and convert inline in one pass.
The presses were ordered at the recent Mark Andy Open House in Warsaw. The servo-driven P7 is due for delivery in June 2017.