100th Hybrid Packz installation in Italy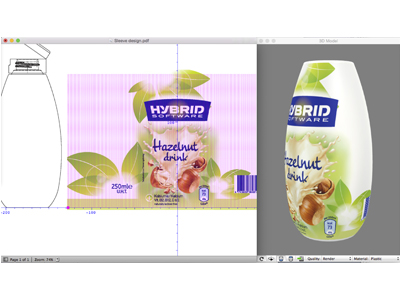 The software's 3D simulator gives a realistic preview of the final packaging design
Self-adhesive label printer Artes has undertaken the 100th installation of Hybrid's Packz editing software.      
The Arcisate, Italy-based printer has been producing labels for more than 40 years and prides itself on investing in new technology.
'We moved into flexographic production during the mid 1990s at a time in Italy when it was not considered a sufficiently qualitative technology for labels,' said owner Luca Airoldi.
'Having an efficient pre-press department is vital so in 2012 we invested in HD digital flexographic platemaking facilities, which further improved quality and reduced production times,' he continued. 'To increase throughput even more we have recently purchased several seats of Packz, which will not only aid the speed of processing jobs in the pre-press department but also cut down the possibility of errors.'
Available on OSX and Windows platforms, Hybrid's software makes editing of packaging and labels accessible to small, medium and high production volume businesses. Packz offers 64-bit multiprocessing as well as multi-threading for high performance PDF editing. The software can be used for automatic and manual trapping, colour separation mapping, step and repeat plus text and barcode editing – handling all production requirements for flexo printing.
'Companies are installing Packz because they need high productivity, cost effectiveness … and freedom to choose,' said Hybrid chairman Guido Van der Schueren. 'Artes was able to easily integrate Packz within its existing pre-press workflow without having to make any changes. It's one of the many attractions of the software.'