Baker Labels expands premises and invests in new machinery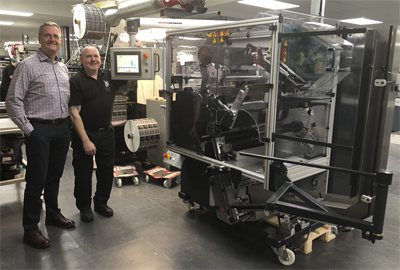 Bakers has invested in an Auto Set Vectra SGTR glueless turret rewinder
Brentwood-based Baker Labels has started work on expanding its premises at Hubert Road. Bakers has been situated at the purpose built factory in Brentwood, Essex since the move from Walthamstow in 2011, rapidly increasing production capacity, turnover and staff recruitment ever since.
Managing director Steve Baker has some exciting plans for the extra 10,000 square feet, 'It's been seven years since we moved to Brentwood and it's been an incredibly exciting period in our history with year on year very positive investment and growth. We look forward to continuing this trend so need more space and being next door it was a very easy decision!'
The new building will become home to the materials division of Bakers. The plan is to be installed there by the end of April, leaving the current materials warehouse available for further equipment investment and the possibility of branching into new, exciting areas of print. 
In addition to the expanded premises, the company has also invested in an Auto Set Vectra SGTR glueless turret rewinder from AB Graphics. The new addition was delivered on the 20 February, and was purchased to save set-up time. 
'The demand for faster turnaround and higher output is key to our long term success and equipment like this helps to make it a bit easier,' commented Mr Baker. 'Reinvesting the profits in equipment and staff training has and will always be our main priority. This is a great piece of kit which the guys are already very comfortable with and are impressed with the ease of set-up.'