Bobst 20SEVEN open house draws hundreds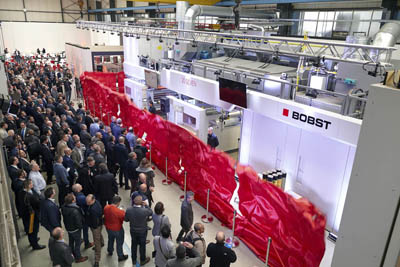 The unveiling of the Bobst 20SEVEN CI flexo printing press
On 27 and 28 February, the Competence Center of Bobst Bielefeld was filled to capacity with over 400 leading packaging converters and suppliers who had travelled to Germany to discover Bobst's new 20SEVEN CI flexo press optimised for extended colour gamut (ECG) printing, and to learn more about the ECG process.
Printing demonstrations of commercial and mock packaging with multi-lane graphics, and laboratory quality checks with Delta-E colour analysis demonstrated the colour consistency of the ECG process.
Other time and cost benefits for brands and printers were presented during the wide-ranging review of the ECG process delivered by industry partners – brands, users and industry suppliers – who joined Bobst at the event.   
'Being complimented enthusiastically on the new press is very gratifying as it rewards our pursuit of innovation and excellence in equipment and process performance,' commented Jens Torkel, managing director and head of CI flexo product line, Bobst Bielefeld. 'We have hit the mark with converters because we have succeeded in improving the machine functions that are fundamental to ensure process repeatability in wide-web flexo printing. The press is ideal for ECG but it also brings enhanced performance with conventional printing. This makes the 20SEVEN a win-win choice in any situation.'