Uteco partners with Kodak for new hybrid press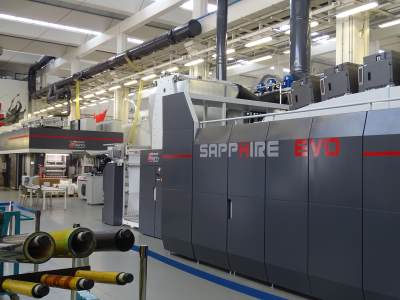 A new hybrid press, the Sapphire Evo, has been launched by Uteco which has partnered with Kodak to combine the capabilities of flexo and gravure with digital inkjet in one machine.
The press uses Kodak Stream inkjet technology to offer new opportunities for brands and packaging service providers in the high-volume production market.
The Sapphire Evo brings digital printing to the production floor with capabilities of printing over 9000m/hr. The press can take media up to 650mm in width and prints at up to 622mm and offers CMYK printing as well as options for inline priming and varnishing.
Using environmentally friendly water-based inks to print on a variety of flexible substrates, including BOPP, PET and paper, Kodak's inks and pre-coating fluids used with the Sapphire Evo complies with regulatory requirements for indirect food contact in the EU and the US, as well as brand specific requirements and the EuPIA exclusion list.
At the press launch in Uteco's facilities east of Verona, Aldo Peretti, CEO, Uteco Group, said, 'When our customers' customers are asking for short runs on marketing campaigns with variable data printing, not only in black and white for [QR] codes, but for promotional activities we needed to do something. There is already a huge market for this. If they ask the printer for short runs, what can they say? Sorry but we can't do this with our technology? Or will they outsource it to the many small digital printers around, at very high cost and low speed? With this machine, all our conventional printing customers, can go into these markets for short runs with variable data, but at the same time still service the long run markets they are already serving.'