Fast, flexible and wide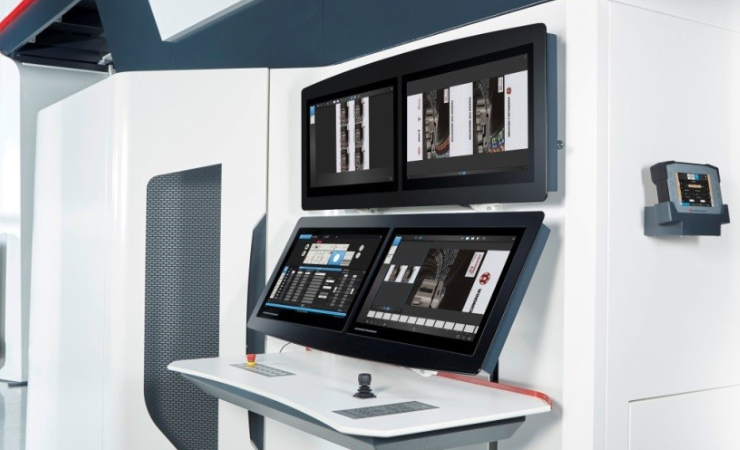 W & H's ProControl unit is fully integrated with the press
With market demands for flexible packaging becoming ever-more demanding, wide web press manufacturers are working to make their press technology more intuitive and more attuned to the requirements of the sector.
Regardless of which study or research report you might read, the flexible packaging market is forecast to grow. Smithers, in its 2021 publication on the subject, forecast a compound annual growth rate (CAGR) of 3.4%, by volume up to 2026, reaching a total consumption by that time of 37.5 million tonnes. Another forecast – this one by Markets and Markets – anticipated a 4.8% CAGR between 2022 and 2027.
This is a key sector for wide web flexo printers, and augurs well for the years to come. Progress is not straightforward though. Run lengths are expected to continue a downward trend, potentially increasingly bringing other print technologies into play, and putting ever greater pressure on makeready efficiency, and on the capabilities of printing press operators, where skills are these days at a premium.
This is certainly a combination of factors that wide web flexo press manufacturers reflect upon, and which are figuring greatly in the technological developments that these companies bring to market.
'Printers entering the flexible packaging industry must take into account the most significant trends today: short runs, high-quality printing, and a shortage of skilled printers,' comments Jordi Puig, flexo technical sales director at Comexi. 'Given these factors, printers need to seek out machines that offer both rapid job changeover and user-friendly operation, while ensuring exceptional printing quality. Furthermore, the scarcity of experienced printers results in frequent operator turnovers between companies. This emphasises the need for intuitive machines that are easy to learn, and ideally capable of self-teaching. This way, operators can achieve high productivity right from the outset.'
Natalie Schneck, marketing & communications manager for the CI flexo product line at Bobst, hints at the variety and diversity contained within the flexible packaging sector in referring to the 'niche segments' that are available, and that 'contribute to the ROI projection for printers investing in capital equipment for flexible packaging'.
And, as ever, sustainability is very much a live issue – how could it not be in a market where much of what is being printed on is derived from different types of plastics. Luigi Fiorenzato of Expert reminds of this in saying that 'From a technological point of view, flexible packaging sees a transformation that is constant and more and more sophisticated. Just think of the increasingly strict norms on recycling: now plastic film is being substituted by paper and bamboo fibre films, and the possibility to separate film from paper in PE coated papers is now trending towards the non-plastic polymer coated papers. These are just some of the latest trends.'
Substrate challenges
Indeed, the wealth of materials that might be counted as flexible packaging substrates represents a huge challenge for printers and for those manufacturing the technology that they use.
'Substrates are currently a pivotal focal point,' Mr Puig confirms. 'We find ourselves in an era of transformative shifts driven by sustainability concerns. The drive for sustainability is universal, with a growing emphasis on adopting new materials. These materials encompass not only paper but also mono-materials like PE or PP. Furthermore, the overarching objective is to curtail plastic usage, thereby reducing film thickness.
'Hence, it's accurate to assert that the management of diverse materials has become a pressing matter for press manufacturers. Adaptability to a broad spectrum of materials has become paramount. Modern machines must seamlessly handle both paper and delicate materials like thin PE or compostable films, which necessitate minimal tension and a lack of heat application.'
Mr Puig said that while presenting an array of options, Comexi's focus is on advancing EB printing technologies, which facilitate the use of mono-materials for surface printing. 'These technologies concurrently maintain a cool temperature during the process, allowing for the utilization of thinner and more flexible materials,' he continued. 'Moreover, our repertoire includes tools and solutions for measuring, controlling, and regulating printing lengths. This pre-emptively averts potential issues downstream in the packaging process. Naturally, we offer top-tier video systems for meticulous 100% inspection as well.'
'All substrates have differentiating characteristics and need to be treated differently,' said Expert's Luigi Fiorenzato, before outlining how Expert's technology deals with certain types of material. For instance, with paper, he says that water-based inks are a must, as are washing systems that clean the inking circuits as quickly and efficiently as possible; low thickness films that are easy to stretch require software that is specialised in low tension film management (unwinding and rewinding with low pull force).
Fine, compostable and breathable films and extra thin paper can allow ink to penetrate and go through, wetting the CI drum and backing cylinders, which Expert alleviates by enabling easy and comfortable reach of the CI drum and the backing rollers, thus allowing an easy and fast cleaning operation. And to deal with extra thick materials, which are resistant to automatic cutting, Expert has developed an automatic cycle through accumulators, generating an accumulation of material, and a full stop of unwinders and rewinders, that allows a different kind of cutting technique.
Tense situation  
It is critical to match the settings on press for tension and other factors to the flexible packaging material to be used, says Bobst's Natalie Schneck. This includes web tension, web guiding, treater, drying and winders. 'Right tension is important for the correct print repeat and keeping the repeat constant during the run,' she said. 'The drying temperature needs to be optimal for the material and the desired production speed. A higher temperature than necessary is a waste of valuable resources and money.'  
Windmöller & Hölscher (W&H) observes that understanding the nature of the substrate comes from experience to a great extent, adding that it is important to differentiate between extensible substrates such as LDPE/LLDPE polyethylene, and non-extensible substrates such as papers and foils. W&H's ProControl is the fully integrated Press Control Unit, and this has the capability to take care of all settings like web tension, viscosity, inking, wash up, colour deck adjustments and much more.
'There is the need for tailor-made solutions to suit the customers' requirements,' said W&H, in regard to how it helps customers get the best performance from their presses. These include 'machine modules and ease-of-use automation, machine intelligence, integrated solutions to make it easier for the operators'. The relative dearth in traditional skills among the more recent intakes of press operators makes it all the more important that the presses are intuitive to use.
More intelligence
W&H's technologies to meet this need include its W&H Easy-Set and Easy-Reg modules for automated impression and register, using sensors in the printing unit, and helping to minimise production waste. A further module – Easy-Col – helps matching of the correct colour settings. W&H Ruby is an extension of the company's Vision integrated inspection system, collecting machine data and helping users to understand correlations between print defects identified by vision inspection and machine parameters such as ink temperature or web tension during production. Frederik Petzold, product manager for printing and finishing at W&H, explained, 'Understanding where the defects originate in the printing process is a necessary step towards consistent quality improvements. The next generation of print inspection systems will not differentiate by a higher camera resolution, but with more intelligent defect analysis and automated print corrections.'
Comexi says it has developed a full set of solutions called GeniusTech to cater for the need for intuitiveness and ease of use. There is GeniusRun or GeniusDrive to 'obtain the highest quality in the easiest way', GeniusBoard to lead operators during job changeover preparation and execution, the 'intuitive' and easy to use GeniusTouch HMI, from which any operation for the machine can be initiated, and GeniusPrint, which enables set up of all pressure and register parameters at the touch of a button.
Expert says it aims towards 'ongoing, constant improvement' to maximise efficiency. Luigi Fiorenzato says this is carried out in a 'minimalist style', without flashy terms or displays: 'simply doing it every day under all aspects', looking to achieve constant small improvement. Although printers are always interested in running speeds and web widths, what most of them are more interested in is minimising downtime and wasted materials and reducing operator stress and fatigue at every job change. 
A major factor has been the launch of Expert's Zer0 Waste system at the K-Show in October 2022, an automatic machine setting system for its central drum presses, that aims to quickly get the printing press start-ready, with perfect register and the correct printing pressures. 'The productivity of each printing unit is thus optimised, to the point of eliminating the gap between one production and the next,' said Mr Fiorenzato.
All of these systems are taking wide web flexo in key directions, enabling less skilled operators to get into production quickly, reducing makeready times and making shorter volume jobs more viable in markets like flexible packaging, where that is exactly the requirement being imposed on print suppliers.
Soma view – Petr Blasko, marketing director
Packagers and brand owners are always looking for new materials that are easier to work with, and substrates and inks that are safe. In addition to research into new inks and substrates is the construction of packaging, particularly as it relates to sustainability. These requirements are driving innovations in presses, to print effectively on a new generation of materials which can be recycled or composted.
The Soma Optima press can handle a variety of inks – solvent-based and water-based inks, as well as UV LED, or EB inks. Additionally, the wide portfolio of upstream / downstream units offers the way to produce sustainable packaging by means of various functional coatings applied inline with the print.  
More lower volume packaging products are being produced. What defines the requirements of the modern flexo press is the need to deliver quickness and flexibility via automation. Automation also helps with the trend that skilled operators/printers are very difficult to find. 
Three examples illustrate this:
Soma S-Mount – the automated plate mounter S-Mount plays a part in the complete system, delivering speed and accuracy. S-Mount systems offer accurate plate mounting as well as intelligent offline registration and impression settings (IRIS). While mounting a flexo plate, essential data for registration and topography/impression settings are stored in RFID chips. When the sleeve is inserted into a Soma Optima flexo press, this data is read and prepared for fully automatic operation, assuring very quick and accurate make-ready of the press.
Soma Changeover Wizard – analyses in an automated way the differences between the job just printed and the job that follows, advising on next steps. It can reduce the number of tasks, defines their optimal correct order, and also automates as many steps as possible, basically guiding the printer through the changeover process.
Soma Job Tuning – during job setup, and taking less than one minute, it can automatically tune the press drives with specially designed algorithms that maximize registration accuracy and can minimize the bouncing effect for each particular design. It takes into consideration the dynamic effects of the bridge, the sleeve, the tape and the plate.