Inks that provide a dual solution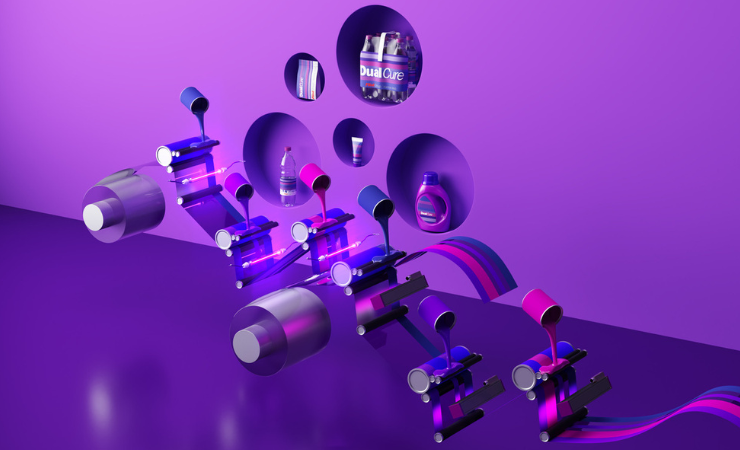 Dual cure inks are smoothing the transition from traditional UV to UV LED curing (source: Flint Group)
The industry is migrating from mercury-based UV curing to LED UV curing, and dual curing inks have been developed to help printers make the transition. Andy Knaggs looks at what goes into creating these inks, and what they mean for the flexo sector.
The rise of dual curing inks represents a neat solution to a very real industry predicament. UV curing has been around for a long time, but traditional curing technologies – which most of the flexo industry still uses – are considered less than ideal in terms of several factors, most specifically energy usage at a time of high prices, and environmental impact.
UV LED curing, rapidly growing, holds the promise of improvement and is considered the future by most observers. It is cheaper to run, more reliable, safer to use and better for the environment. However, it is going to take some time for the industry to migrate from its investments in mercury-based UV curing to LED technology, and in the meantime, a good deal of ink research and development has been directed towards smoothing that transition.
The result has been dual curing inks. These are not new now either, but as greater swathes of the industry start to move towards UV LED curing, their usage is starting to take off.
'Dual curing inks enable businesses to convert across from traditional UV to UV LED on an individual press-by-press basis, at a timescale that suits them,' says Gary Seward, managing director of Pulse Roll Label Products. 'Responsive to both traditional UV and LED light, bespoke formulations like our PureTone DC give converters the tools they need to compete on sustainability and cost, while also providing the perfect solution to futureproof their press.'
Mr Seward's view is that dual curing inks 'are now taking the market by storm', and Siegwerk's Hansruedi Nef reports that the market for dual curing flexo inks 'shows a strong growth year by year'. Meanwhile, Niklas Olsson, product manager at Flint Group, which develops the EkoCure range of inks and coatings, which includes dual cure inks, describes the development of dual curing inks as 'one of the most exciting areas of exploitation'. He adds that the company's own data from discussions with customers shows that up to 40% of new narrow web presses are LED-equipped, with the fastest adoption rates found in North America and Asia-Pacific.
On the same wavelength
So, what goes into making a dual curing ink for the flexo market, and how will this market continue to play out? It is time for a quick dip into some science. It is quite simple science, and certainly not, as Paragon Inks' R&D chemist Fernando Greatbatch admits, anything to do with magic. 'The reason why the dual cure system is possible is simply down to the multi-peak output of a normal arc/MPM lamp, which crosses over with the single peak output of an LED system,' says Mr Greatbatch. Paragon's dual cure inks include Luna and Aura+, which is suitable for food contact.
Typically, mercury-based UV curing lamps emit UV light at wavelengths in ranges somewhere between 200 and 440nm (nanometres), whereas UV LED light has a much narrower range of wavelengths – usually in the 385 to 405nm range. This means there is something of a sweet spot where both traditional and LED UV light sources overlap. The narrower spectrum of LED light also means that it starts curing ink directly at the point it meets the substrate, rather than from the top down, which Gary Seward of Pulse Roll Label says results in stronger, faster adhesion and improved line speeds. In turn, this reduces the ink's migration potential, making it better for food contact applications.
Jigsaw puzzle
Dual curing inks are manufactured to perform at that point of overlap in the light spectrums of UV and UV-LED, typically at around 395nm. This is an easy thing to say, but a much harder thing to formulate to the necessary standards in laboratories and then mass manufacturing.
Paragon Inks' Fernando Greatbatch likens this to putting together a complicated jigsaw puzzle, saying, 'As an ink and coating manufacturer, creating a new formulation can be assimilated to putting together a muti-piece jigsaw, where all the pieces, namely the ingredients and manufacturing processes, must fit and work together to give the final picture or product.'
Siegwerk's dual cure offering is the low migration ink series Sicura Nutriflex LEDTec, and non-low-migration Sicura Flex Dual Cure, and the company's narrow web product manager Hansruedi Nef goes into a little more detail on the formulation process for such inks, telling FlexoTech, 'LED-UV curing and UV-mercury lamp curing inks consist of similar raw materials, such as binders, monomers and oligomers, pigments, photo-initiators, and additives. The proper selection and concentration of used raw materials is crucial to achieve dual curing properties.
'For example, a dual curing ink has to contain photo-initiators reacting to the UV-mercury lamp spectrum, and photo-initiators reacting to the LED-UV spectrum. However, for best ink performance and printability, not only the photo-initiators that initiate the chain reaction needed for crosslinking inks and coatings, but also the binder, monomer and oligomer system, as well as the additives, must be adjusted to the two completely different UV-irradiation spectra. For best dual curing properties, the most optimal combination of the two technologies is key.'
Niels Nielsen, chief commercial officer for Resino, also explains the precision that is required in matching the components within a dual cure ink, as they effect the performance of each other. Resino's Resucat inks use a range of photo-initiators and synergists to initiate curing, and with mercury lamps, the synergists help faster curing by extracting longer wavelengths.
'In LED, there are only longer wavelengths to get energy from,' said Mr Nielsen. 'The synergist-photo-initiator interaction is important in mercury curing, but it is alfa-omega (the beginning and the end) in LED curing, because all the energy has to go through the synergist into the photo-initiator. Choosing the right synergist and the right photo-initiator for each colour is key and optimizing the amount of both is key to having good dual curing.'
Usually, a mixture of photo-initiators must be chosen, says Sun Chemical's product manager Mark Walkling, to ensure that the needs of surface-cure and through-cure, and the pigments used in the inks, are accounted for. Sun Chemical sells SolarWave dual cure inks in a variety of flexo colours and opaque whites, with a migration-compliant option.
'Moving to UV-LED, the choice of photo-initiators that respond effectively at the required wavelengths is limited,' said Mr Walkling. 'Because there is, in effect, just a single wavelength for a photo-initiator to use, we have to choose those that respond most efficiently and produce the large number of free radicals needed to effectively cure the ink or coating. It is this large number of free radicals that results in most products that have been optimised for cure under UV-LED to also cure effectively under Hg-UV (mercury), hence the rather misleading term of 'dual cure'.'
Production considerations
In usage of dual cure inks, the effect of natural light and the heat generated by machinery needs to be considered by printers. Because the inks are generally formulated to cure at 395nm, they are naturally more sensitive to visible light, which has a range of 400 to 700nm, than traditional UV-curing inks. This means that proper illumination of press rooms and protection from sunlight exposure through windows or roof-lights is even more important than with traditional UV curing inks.
Printers might also need to change machine settings and working procedures to achieve the most optimal printing and curing performance of dual curing inks when cured with LED-UV only, because LED curing generates less heat on-press than mercury-based UV curing. Resino observes that in central impression (CI) flexo, the CI-drum temperature capabilities are important when printing with dual cure inks and curing with LED, because less heat is being brought into the substrate by the curing process, when compared to traditional UV. Resino's Niels Nielsen says, 'If doing a retro fitting it is important to check how high the CI-drum can go in temperature. Normally, flexo machines made for UV can go up to +35C, which is a good temperature, but some flexo machines originally made for solvent will have lower maximum CI-temperatures, so this can be a hinderance for a good LED result.'
These factors of natural light and heat generated by the machinery both suggest that companies starting with dual cure inks for the first time should seek specialist advice and support to ensure their production environments are optimised for their use.
Future perspectives
So, the transition from traditional UV to LED is well underway, and dual cure inks are playing a critical role in facilitating that migration. Flint Group's Niklas Olsson believes the rise of these inks is a pivotal moment for the packaging industry. He said, 'On the surface, we might see dual cure inks as just a highly specific area of change for printers, but the rise of dual cure inks exemplifies a wider changing dynamic within the packaging industry. Sustainability, once considered a nice to have, is now an essential requirement for businesses to thrive in a world increasingly conscious of its ecological footprint. Consumers are demanding sustainable products, and the entire supply chain must keep up.'
Mr Olsson continued, 'As an industry, we must demand more. It's clear that metrics such as carbon output are guiding consumer purchase decisions, so technology must go further than ever before – and that begins with ink and coating selection. By embracing dual cure inks, printers can enhance their reputation, attract environmentally conscious brands, and improve their bottom line through operational efficiencies.'
And it might be that a further push in this direction is on the way, according to Hansruedi Nefs of Siegwerk. He draws attention to the Minamata Convention on Mercury, which was driven by the UN and has been ratified by 143 countries, as of June 2023. The convention aims to completely reduce the use of mercury, if there is an alternative solution available. Mr Nefs points out that the graphical industry, along with others using UV-mercury lamps for curing, was granted an exemption.
'However, given the latest developments, the increasing irradiation and efficiency output of LED-UV curing units, and inks and varnishes showing significantly improved curing and printing performance, a further extension of the status granted to the industry is rather questionable,' he said. 'The current exemption of the Minamata Convention, valid though 2027, will surely be challenged, if the involved parties consider a further extension beyond the currently given deadline. For many, 2027 sounds far away in an ever-faster changing world, but time flies.'
Uptake of LED is certainly increasingly influenced by the high energy costs that printers face, with UV-LED curing said to require around 50% less energy consumption than traditional. It therefore makes economic and environmental sense to move in this direction, and with dual curing inks common on the market, this is another piece of the jigsaw already in place to help flexo printers make that conversion.