Peacocking in packaging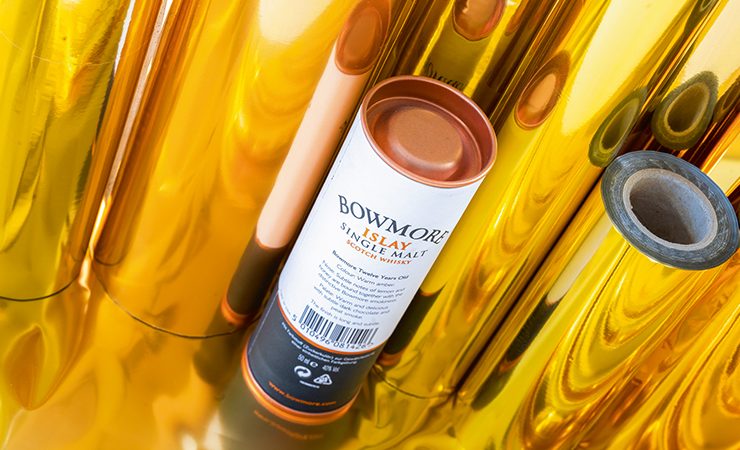 The addition of metallic stamping foil is proven to help brands grow sales
The competition between high-value consumer goods such as wines and spirits, is ever increasing and the demand for fine detail and unique effects on packaging to help a product stand out on the shelf is rising.
Both the visual and tactile appeal of a product is crucial to its success, and as brands invest more in design and marketing, we're finding that job complexity is increasing, as the packaging market utilises advances in technology, such as developments in foiling and embossing, to enhance their products.
Steve Boyd, technical sales manager at Arden Engraving, explained, 'Today's luxury goods market has seen a huge increase in demand for more highly embellished packaging and label designs.
'Embossing and debossing is an incredibly popular technique in today's market as it quite literally adds a new dimension and quite often creates a multi-sensory experience as consumers are drawn to the look and feel of the packaging. When combined with foil finishes, it can really add value to a product, highlighting those finer and more intricate details and helping to evoke that sense of prestige and luxury that brands need to achieve in a competitive market.
'We've invested heavily in the latest CNC engraving machinery and advanced laser technologies to provide highly precise foil stamping tooling to help ensure our customers are making the right impression.'
When it comes to adding embellishment to a label or carton, there are various factors that printers need to consider. These include the specification of the stock material (type, carrier and height) surface finishes, size and details of the images to be embossed and foil stamped.
Mr Boyd concluded, 'It's crucial that manufacturers work closely with designers to help bring the vision to life, and bridge that gap between creativity and manufacturing.
'At Arden Engraving, our creative designers and highly-skilled technical engineers work hand-in-hand with our customers to carefully consider all these factors on a job-by-job basis, drawing upon our years of production experience to ensure optimal results for the end-user.'
Battle on the shelf
The start of the new year is a great opportunity for brands to put some energy back into their label and packaging designs and once again catch attention on the store shelves and convince shoppers in a split second that theirs is the product of choice.
As a repro house, Creation Reprographics, is often asked for the overarching design trends influencing the market, Matt Francklow, managing director, said, 'It's clear that haptic marketing – engaging with the sense of touch while looking great on-shelf – is once again on trend.
'We're switching back to 'hands-on' purchase behaviours, which means tactile finishes will be back in a big way through 2022. One of the simplest routes to engaging the senses is foiling and embossing. Interestingly, we're seeing a significant switch in how these finishes are used. After rising to prominence in more niche craft drinks and top end wines and spirits, it's now becoming a more standard sight in mainstream label design.'
Integrating hot or cold foiling into label designs can effortlessly premiumise a label, whether it's more direct and straightforward single foil or more complex multi-foil showcase pieces. Certainly, from our discussions with customers, we're seeing them becoming much more adventurous with the 'everyday'.
Mr Francklow continued, 'Of course, cold foil is a great choice for non-textured, completely flat surfaces and poly substrates, where hot foil is often preferred for more intricate designs. However, the cost-benefit gap between the two is closing, which tends to make hot foil the preferred approach.
'In particular, we are seeing rapidly rising interest in copper-look and cold-feel foils, likely to continue growing
throughout the coming year. They're a great example of how premiumisation and 'hands-on' design are becoming important label design languages.'
To protect and serve
The addition of metallic stamping foil is proven to help brands grow sales, give brand protection and brand authenticity while helping make packaging beautiful.
There are a number of things to consider when adding stamping foil to the printing process. Most notably the nature of the substrate, any inks and varnishes being foiled onto and whether the foil is to be over-printed or not.
For hot foil stamping, key considerations should include the quality of the die which translates into the quality of the stamped image.
Embossing or textured dies can add further effects to the appeal of a metallic finish. Equally important is the make ready used under the label substrate when flat foiling, with the hardness of the make ready providing the opportunity to optimise larger area and fine detail stamping. Image area and substrate will usually help determine which foil grade is required.
A common mistake can be to have a standard setting for all foiling jobs (speed, temperature and make-ready), foiling is about balance and equilibrium and allowing adequate time to set a job up is key to success.
For cold foiling, the quality of the foiled design is first determined by the quality of the flexo printed cold foil glue so the plate, tape and anilox roller are key, as you would expect.
The key is then to ensure the best possible contact between the cold foil and the glue, so the foil needs to enter the nip completely flat. Optimisation of foil unwind and rewind tensions as well as the overall foil web path are all important. Doing regular checks on UV lights and keeping a good level of cleanliness on each station can also aid the foiling process just as it does for flexo ink printing.
Richard Fowler, API Foilmakers market support technician explained, 'Initially it's about choosing the right process for the substrate. The growth of the flat stamping process for narrow web-fed presses has provided the opportunity for hot foiling onto uncoated and textured papers, and combined with the development of foils such as our UBH and CBH, a much wider range of these materials can now be embellished with metallic foil. The cold foiling process requires a smooth substrate to give the best results, and on film labels the quality of the foiled design and brightness of the metallic finish can match that of the hot stamping process. Further design enhancement is available through the over-printing of foils and we have hot and cold foil products suitable for creating these multi-coloured metallic designs. Printers need to bear in mind compatibility of all the different elements during the print process when used in combination so above all we recommend a comprehensive trial when embarking on a new project to avoid common problems.'
Mark Gilbert API Foilmakers commercial director added, 'As our customers design more intricately embellished labels it is becoming more important than ever for manufacturers like us to be actively involved in the supply chain. We work with die makers, anilox suppliers, ink manufacturers and other key players to ensure the positive solutions are found to meet the brand owners' needs whilst helping the converter to proactively overcome any potential challenges. Also as flexographic print machinery technology develops, the consumable products also need to advance. We have developed our UBH and CBH foils recently to ensure we are at the forefront of foil technology.'
As tactile finishes continue gathering pace, it seems that everyday extravagance and visual impact are likely to shape label design through the coming year, with fresh attention on embossing. Altering the relief of the label adds sophistication and can make even the most mainstream of products feel more exclusive with a strong value proposition. Bringing designs 'off the page' is also a fairly simple effect to achieve with raised and recessed dies. With embossing, printers are able to change the look and feel of labels with innovative and intricate patterns, which can add a touch of class to even standard paper substrates.
This feature was first published in the December 2021 issue of FlexoTech, which you can read online here; register here to receive the magazine, for free