Roll up your sleeves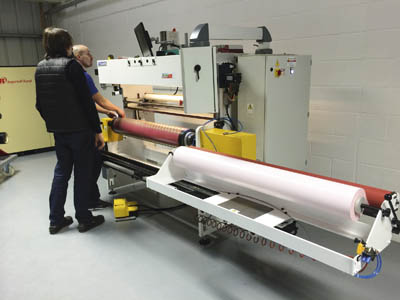 The Irisleeve 1503 is part of Camis' range of products to help setting up flexo jobs
Setting up plates and sleeves can be the most time-consuming part of making a press ready for production, so there is a lucrative market for any supplier that can make the process easier. Michal Lodej looks at what is out there on the market today.
Polymount supplies sleeve technology to the flexo market, mainly focusing on wide web, however over the last years the company has seen a trend of label customers using its products.
The company's Twinlock Sleeves replace the need for mounting tape. The base sleeve can be a sleeve or cylinder from any sleeve supplier. On top of the base sleeve the company applies a layer of polyurethane foam, this has an open cell technology which, according to the company, absorbs the bounces much better than closed cell mounting tape made from polyethylene.
On top of that layer the company applies its Twinlock coating, a polymer that stays tacky as long as the sleeves are in an environment with oxygen.
After a print job, a printer can simply demount the flexo printing plates, activate the tackiness with a Twinlock Activator and can mount the next set of printing plates for the next job.
Carlos Saya, Polymount's marketing manager said, 'This saves you a lot of money on mounting tape, the mounting of plates is also much quicker compared to mounting with tape. Another benefit is that the print quality is quite often better than with tape due to the better absorption of bouncing, this also enables printers to reach higher press speeds compared to using mounting tape.'
Fast tracked
Trelleborg introduced its Fast Track Service one year ago and has reported it to be a great success for its worldwide flexographic sleeve customer base.
Damien Leterrier, Axcyl sales & application manager for Trelleborg's sleeve business, said, 'With the supply chain becoming more and more critical in our industry, quick and reliable lead times for tooling procurement is confirmed to be vital for converters. We are pleased to confirm our recently introduced Fast Track Service has helped our global customer base in that respect. And we are proud to have attracted new customers with this differentiating service'
In addition, the company's new Carbon BS bridge sleeve has also experienced great success. This product is engineered to reduce bounce, thereby maximising printing press productivity. It is available for new presses as well as for retro fit to existing equipment.
The Axcyl sleeves incorporate a composite honeycomb structure that makes them the light, stiff and stable. A specially designed mounting layer has been used to filter vibrations coming from the printing plate to minimise press bounce and improve productivity.
The complete product range for wide and narrow web flexo printers includes products such as;  Coaxcyl EM a thick plate mounting sleeve; Coaxcyl TR a thin plate mounting sleeve; Coaxcyl BS a composite bridge sleeve, with either standard air holes ventilation, or separate ventilation; Carbon BS, a high performance carbon fiber bridge sleeve providing exceptional stiffness and damping properties for improved productivity; and Axcylox to protect the fragile outer surface of anilox sleeves or rolls.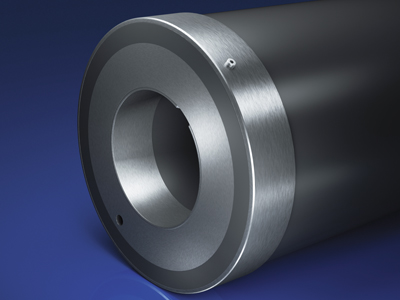 Tech Sleeves' Tech Bridge Hard sleeve is suitable for all kinds of plate sleeves
Upping the anti
Grafiche Tamburini's GT Stat is an anti-static mounting sleeve for use with double-sided adhesive cushion tapes. The sleeve is coated on the outer surface in special anti-static polyurethane with static load discharged by means of carbon fibre to guarantee resistivity under 1 megaohm in compliance with the specifications issued by the PTB (Physikalisch-Technische Bundesanstalt), the national metrology institute of the Federal Republic of Germany, on safety in the workplace for use on flexographic printing presses.
The special formulation in PU of the outer layer makes it ideal for flexographic printing applications with water based and solvent based inks, guaranteeing perfect attachment and removal of the main industrial double-sided adhesive cushion tapes.
The company also offers pneumatic adapter made from aluminium or polyurethane covering to reduce plate mounting sleeve thickness. It enables an important reduction in weight by easing manual movement of the loads with considerable savings over time in machine preparation.
Sleeve mounting is particularly easy thanks to direct sending of compressed air from the printing press mandrel which helps reduce plate mounting sleeve costs while enhancing printing quality. An ideal solution for those large width prints, where you can accurately join and register sleeve segments, to very high registration accuracies is the GT Easy Block.
Slotting in
Over the years, Rossini's sleeve and carrier technology has worked in tandem with other process developments to ensure that flexo has continued to advance and improve.
According to the company these improvements are achieved only by adopting an approach that has an overview of the entire process and the requirements of the markets it serves, whilst at the same time listening to its customers.
With this in mind it invests not only in research and development with regard to new products, but also established products that have served the industry well, and can be improved further by new features or materials.
A good example of this approach is the location slot within sleeves and carriers. When considering that having slots that are worn, damaged or even missing can damage press mandrel surface's, prolong set-up times and meterage and required rework or replacement throughout the duration of the sleeve or carrier's life.
Due to the positive reaction and customer feedback for the protection features in its StarCoat sleeves, Rossini has now used this information to offer its customer's the new option of a more durable slot that also offers protection from damage to press steel or carbon fibre mandrels.
The Hony Sleeve Stat is an anti-static, plate mounting sleeve with external thin layer polyurethane coating for use with double-sided adhesive cushion tapes. The intermediate layer between the base sleeve and the outer coating is made of with honeycomb structure material used in aviation design and construction; its low density enables a reduction in sleeve weight up to 70% if compared to a traditional sleeve of equal dimensions. The mechanical characteristics of the honeycomb structure provide a reduction and absorption of typical design rotation-based harmonic resonance vibrations in flexographic printing, allowing higher press speeds, improved manual handling and a reduction in inertia forces on critical press drive motors. Constructed in conductive materials and in compliance with work safety standards published by the PTB for flexographic printing presses.
Camis Srl and their global distributor, Eurograv Limited released a new flexographic sleeve mounting solution on their stand at drupa this year. The Camis SleeveMASTER HD Pro is specifically aimed at the mid to wide web flexographic printer who is looking to improve print quality, registration, press up time and overall process standardisation from operator to operator and sleeve to sleeve. The SleeveMASTER is available in widths from 900 mm up to and over 2000 mm wide and with print
Responsible for global sales of the Camis range of flexographic plate mounting solutions, Mike Attard of Eurograv noted that the primary aim of the new machine is to make mounting easy for everyone, experienced or not, he stated, 'We are aiming for zero press down time due to the tape or plate mounting along with virtually zero technical intervention required on the machine within six years.'
Established in 1990, Northwest Roller Services Limited supply and the flexographic and gravure printing and lamination Industries with a range of consumable items. The company manufactures the Easy Sleeve conical and parallel sleeves and sleeve systems, refurbished rubber covered cylinders and sleeves and laser engraved seamless ITR (In The Round) flexographic printing rollers.
Managing director Ian Antrobus said, 'Product quality and customer service, delivered to suit customer needs are the basis of our successful company. Ten years ago we invested in the technology to manufacture both conical and parallel sleeves and sleeve systems, to supply the flexographic, gravure, and allied trades. Rubber covered sleeves are made compatible to industry standard dimensions.
'Industry demand has led to the development of many processes in design and origination. Together with the latest lasers available we are now able to manufacture flexographic sleeves with screen counts and line weights that were unachievable five years ago.'
The company offers laser engraved ITR conical and parallel sleeves, in standard and conductive options. These are rubber covered and produced for the production of packaging and decorative materials, or rubber covered for pad/tint printing 40 to 100 shore A scale.
It also has Easy Tint rubber tinting sleeves which are manufactured to suit 88 tooth gearing, 1/8″cp, in compounds suitable for water, solvent, UV inking systems, and varnish applications. These sleeves are manufactured in lengths of 460 mm 750 mm and 890 mm.
Additionally, the company provides the Easy Sleeve release agent, which has been specifically developed to assist when fitting or removing sleeves from the air mandrel. A coating is applied to the air mandrel prior to sleeve application.
Read the rest of the FlexoTech December issue here.