From colour pains to performance gains with new GSE ink logistics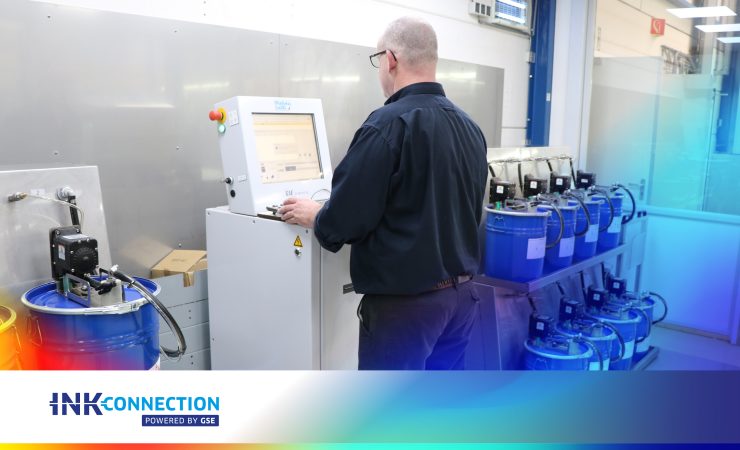 GSE launches a new blog series about good ink management for label and packaging printers. Covering all the steps from dispensing to software and traceability, InkConnection.org will show how to hit colour shade targets, cut costs throughout the workflow – and start the journey to 'operational excellence'….
For packaging and label printers, managing inks and the quest for accurate colour are major causes of lost value to the business.  Consider the high-performance press left standing because of delays getting one ink recipe right; scrap lost because of remakes – or the time spent on purchasing, inventories, and tracing ink batches. Ink takes a complex journey through the printing house, and any errors along the way can affect quality of output, machine uptime, delivery times – and profits.
Converters from around world have turned to us to solve such challenges for nearly 50 years. So, we at GSE have launched a new blog series about Ink Logistics, based on our experience, to help you overcoming your ink-related problems too. 
The road to preferred supplier status starts here
Controlling your processes with ink dispensers, proofing equipment and the latest software can turn your factory into the 'lean,' reliable and responsive operation that achieves 'preferred supplier' status. It enables you to:
meet the most demanding spot colour targets for brands – first time, every time
reduce ink usage by up to 30% and cut out substrate waste
cut makeready times and generate revenue with extra press 'uptime'
provide quality and safety assurance in the supply chain with traceability
have instant access to real-time stock and cost information at your fingertips
In the months ahead, we will help you identify waste in your workflow and provide advice on eliminating it.   We will also show how ink management software automates processes and gives real-time information to help you in faster, smarter decision-making. 
This will be an 'information hub' for exchanging ideas about best practices, technical advice, market trends and case studies. Hopefully these ideas will inspire you and provide the insight to transform your business. And remember – your feedback is welcome too.
Want to know more? 
Sign up here to receive regular updates on this blog series. Also, contact our  sales team for a consultation, on email info@gsedispensing.com or telephone +31 575 568 080.