Going viral: The lockdown countdown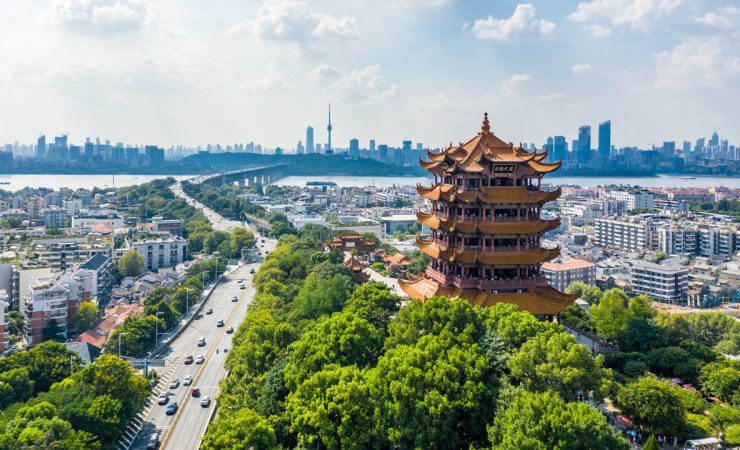 The Chinese city of Wuhan is now synonymous with the virus
The UK went into lockdown on 23 March, though to many of us it may feel like longer, much longer. 
Most of us are keen, as soon as we know it's safe, to get out of our houses and back to work. Naturally no-one wants to take any unnecessary risks, but many of our European neighbours, as well as other countries in the Far East, are taking their first tentative steps on the road to normalcy.
We've broken down the latest news on what policies other countries are pursuing to see if it can shine any light on our own future.
Austria
The Alpine nation hit the headlines on 6 April when Chancellor Sebastian Kurz presented a timetable for a phased return to something approaching ordinary life.
This will involve smaller shops and DIY stores being permitted to open their doors on 14 April, followed on May 1 by larger shops deemed slightly higher risk. Mr Kurz hinted that restaurants and cafes would follow in mid-May, but only if the infection rate remained under control. No estimate has yet been given on when schools might reopen.
However, it has also been confirmed that Austrians will be expected to wear face masks in supermarkets and on public transport.
Mr Kurz and his government's handling of the crisis has been widely praised in Austria, however the decision to be the first European nation to move out of lockdown is clearly a risky decision, and other countries will be watching closely to see what happens.
Austria reported 229 new cases of the virus on 6 April, compared to 1050 on 27 March, the worst day of the outbreak.
Denmark
Denmark was one of the first nations in Europe to impose a lockdown, something which Prime Minister Mette Frederiksen says has allowed it to 'avoid the misfortune that has befallen a number of other countries.'
The Danish population has been in lockdown since March 11, when schools, day cares, restuarants, cafes, gyms and the countries borders were closed.
However, the Scandinavian nation is set to open its kindergartens and primary schools after the Easter weekend. If that proves successful the government intends to liaise with business leaders on getting office staff back to work.
Mr Frederiksen has stressed however that a resurgence in cases would lead to an immediate resumption of lockdown conditions.
On the worst day of the outbreak in Denmark there were 371 cases reported, compared to 8271 in Spain.
Germany
Germany, which of course shares land borders with both Austria and Denmark, has drawn up its own rules and regulations including mask wearing and limits on public gatherings as it prepares to relax some of its lockdown measures.
The staged end of the restrictions will be done regionally and will rely heavily on technology, including mass testing and tracing of the infected.
Europe's largest country, both economically and by population, believes it will be able to ease itself back to normal provided the infection rate remains below one (meaning that on average each infected person infects less than one other person.)
Initial plans are for shops, restuarants and schools, shut since 22 March, to reopen in selected regions from 19 April. However masks will be compulsory when available, and social distancing guidelines will remain in force.
The total number of new cases has fallen in Germany every day since 2 April.
China
Only a few short weeks ago the Chinese city of Wuhan was almost completely unheard of in the West, but now the metropolis, home to 11 million people, is synonymous with the Coronavirus outbreak.
But after two months of almost complete isolation the capital of Hubei province has just about returned to normal. Over the past week residents have returned to the outside world for the first time since 23 January. They will be allowed to leave the city itself on 8 April. China's concern is that, now infections arriving from abroad, it has limited international flights to one a week.
There were at least 50,000 cases in Wuhan alone, though many have raised doubts over the veracity of the Chinese Government's statistics.
In total Wuhan's complete lockdown lasted for two months before gradually loosening.