FINAT launches carbon footprint initiative as curtain falls on Labelexpo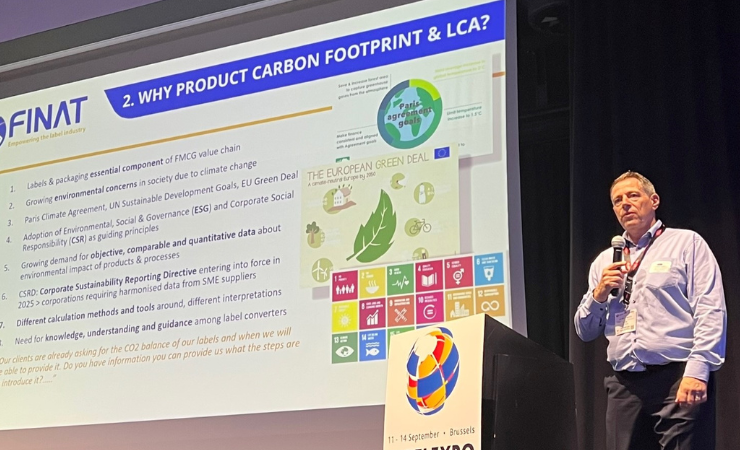 FINAT's Alex Knott announces the PCF/LCA initiative at Labelexpo Europe
Labelexpo Europe 2023 closed yesterday (Thursday 14 September), drawing a line under the trade fair's tenure in Brussels. The Spanish city of Barcelona will host the next event in 2025.
While official statistics are yet to be announced by organiser Tarsus, the impression gained by FlexoTech during its attendance throughout the four-day exhibition, was of an event that was satisfying, if not spectacular, in its visitor levels. With the 2021 show having been cancelled due to COVID, there was certainly a buzz in the aisles of the Brussels Expo centre, although unusually hot weather on the Monday, in particular, caused some difficulties for both people and technology.
More than 600 companies exhibited at Labelexpo 2023, many showing new or recently launched technology for the first time. FlexoTech will look to bring further coverage on some of those developments going forward.
One program that was announced was by FINAT, the European label association, which launched its Product Carbon Footprint (PCF) and Life Cycle Analysis (LCA) Initiative at the event. The initiative is designed to give guidance to the label industry on the growing market demand for Product Carbon Footprint data. Collection of such data is challenging, and FINAT is looking to give clear guidance for the label community. The first step – launched at Labelexpo Europe – is a brochure and animated video to explain the basics of PCF and LCA.
Further activity will entail a survey of existing calculation methods currently being used in the labels and packaging production chain (for release in Q1 2024), and a guidance document towards 'harmonising the PCF/LCA approach along the label value chain', which it is hoped will be delivered as a whitepaper and presentation at FINAT's Technical Seminar, in Barcelona in November 2024.
Alex Knott, FINAT board member, who presented the initiative at Labelexpo Europe, commented, 'In the course of the past year, FINAT has been approached by several label converters and national label associations to support them in addressing demands from label customers to provide data about the environmental impact of their labels and packaging. However, there is a lot of misunderstanding about the different methodologies and definitions.'    
Educational streams at the Brussels event included content around Extended Colour Gamut printing (ECG), automation and flexible packaging.