Automated roll changes help accumulate savings for Label Apeel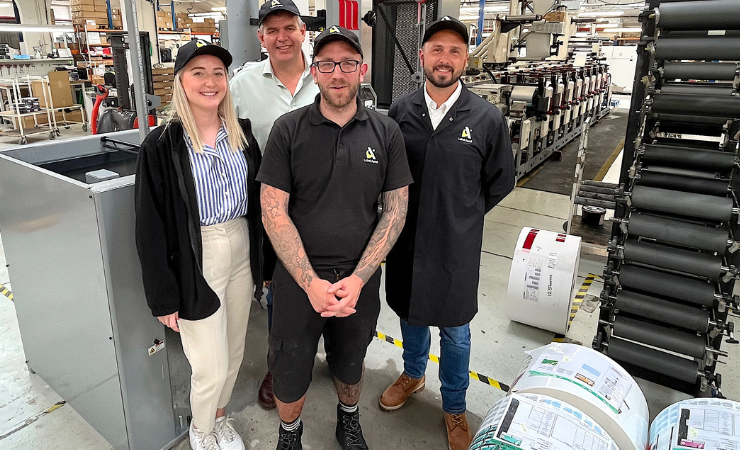 (Left to right): Label Apeel's Helena Kellock, Stuart Kellock and Ian Watson, with Chris Chappel of Martin Automatic
UK printer Label Apeel claims to have significantly reduced waste and improved efficiency since installing MBS butt splicers from Martin Automatic on its flexo presses earlier in 2023.
The Leicester-based company runs two MPS EF330 flexo presses and installed a first butt splicer in Q1 of this year, with the second following in the second quarter. The MBS is capable of handling rolls of various materials from film to board on rolls up to 660mm wide and 1270mm in diameter, and at speeds of up to 300m/min.
'We wanted to ensure we were maximising on our capability, which included reducing waste, especially on the expensive substrates we use, and improving the efficiency of the technology we have here by saving time between roll changes,' said Helena Kellock, managing director of Label Apeel. 
The benefits of the decision have already become clear, she continued, saying, 'There has been an immediate clear and linear ROI, with a significant reduction in expensive waste and improved efficiency in roll handling and changing for the press operators.'
Production manager Ian Watson estimates that the installation of the MBS butt splicers is allowing the business to save around 90 metres of substrate per roll change, which over the course of a shift can total about 640 metres of expensive material.
'If you add in the fact that it takes between five and ten minutes to change a roll manually, depending on how much energy you have, we're looking at around 80 to 90 minutes more production time per shift with automated non-stop changes.'
A further benefit comes through automating processes at a time when skilled operators are at a premium in the industry, says Ms Kellock, 'Employing automation strategically, as we have with the butt splicer, allows us to engage new recruits with the technical and skilled aspects of being a printer. This automation allows the focus to be solely on maintaining the highest print quality for our customers. Installing the Martin technology has been an eye-opener and has given us a very clear pointer to the way ahead for Label Apeel.'