In2flexo launches MultiClick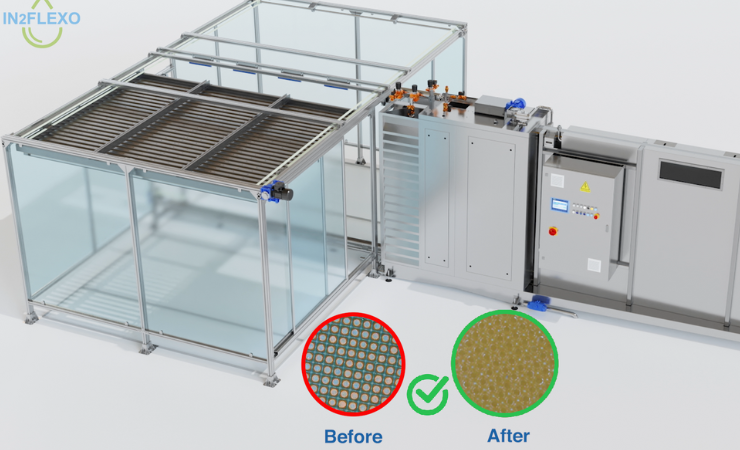 MultiClick saves time, as it allows for the loading, unloading and automatic cleaning of up to 30 printing plates without operator intervention
In2flexo, a company that develops comprehensive options for the flexographic sector, has launched MultiClick: an automatic printing plate cleaner aimed at the corrugated cardboard market. It enables multiple printing plates to be cleaned without the need for operator intervention, producing an 'optimal result with reduced consumption of detergent and water', the company claims.
'With MultiClick, In2flexo continues its heritage of innovation in the world of flexography,' commented Niels Gerrits, CEO of In2flexo. 'MultiClick was developed as a recognition of the demand for increased automation to both reduce cycle time and increase profitability for flexo operations, as well as in consideration of environmental goals that drive the corrugated board market.'
MultiClick saves time, as it allows for the loading, unloading and automatic cleaning of up to 30 printing plates without operator intervention, meaning a saving of around two minutes per plate. As a result of this saving, and the reduced consumption of detergent and water through recirculation, the return on investment is claimed to be about two years, making it an efficient and sustainable option. The parameters for the dilution and re-use of detergent can be modified in order to adapt to each customer's situation.
In2flexo claims that thanks to MultiClick, 'the risk of damaging a printing plate is minimised', and that by keeping plates clean and dry when they are in continuous use, press stoppage due to a plate that is in poor condition can be avoided.
The system features a touch screen, enabling fast, easy selection of the printing plates that are to be cleaned, as well as the speed, and the consumption level for detergent and water.