Colognia invests in MBSF unwind splicer and LRD rewinder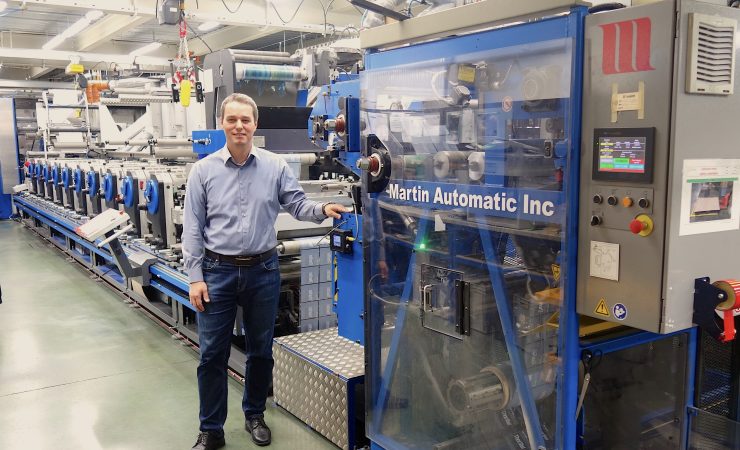 Dušan Převrátil with the Martin Automatic LRD rewinder fitted to the new Gallus Labelmaster
Colognia Press has continued its investment in Martin Automatic technology with an MBSF unwind splicer and LRD rewinder with slitting capability fitted to its new Gallus Labelmaster 440 press.
The new equipment joins previous Martin nonstop unwind and rewind technology fitted to Colognia's Gallus RCS 330 presses in 2010 and 2015.
Established in 1996 and still privately owned, Colognia Press now employs 140 people and sells its labels, shrink sleeves, and flexible packaging to 18 different countries including the USA, Mexico, and Argentina.
But most of its business is in Central and Western Europe, with the strongest markets in the German speaking countries. Major market sectors served include food and drink, chemical and cosmetic, and pharmaceutical, but the company also satisfies demand for its products from the automotive, electrotechnical and logistics areas.
Production director Dušan Převrátil said, 'Around 50% of our output by volume is self-adhesive labels, with blank labels and laminated tubes making up another 30% – flexible packaging, peel-off labels and shrink sleeves make up the rest.'
The company has seen turnover grow from under €10 million in 2013 to more than €20 million in 2021.
Colognia Press operates its own in-house DtP studio capable of making Asahi flexo plates (up to 174 lpi) and its own screens. In addition to its four Gallus flexo presses, it has a digital print department that includes a Gallus Labelfire flexo/hybrid, an HP Indigo WS 8600 and an EFI Jetrion 4900 ML.
Bernd Schopferer, of Martin Automatic, said, 'Colognia press is a perfect example of customer and supplier working together to achieve the best solution. All three Martin installations are different. The first was a straightforward MBS/LRD, the second was an MBSC/STR because a lack of floorspace, and the most recent is an MBSF working in reverse to facilitate roll loading, and an LRD with inline slitting capabilities for multiple ribbons and edge trim. Good business for both companies.'