Reproflex3 and ZDue renew strategic partnership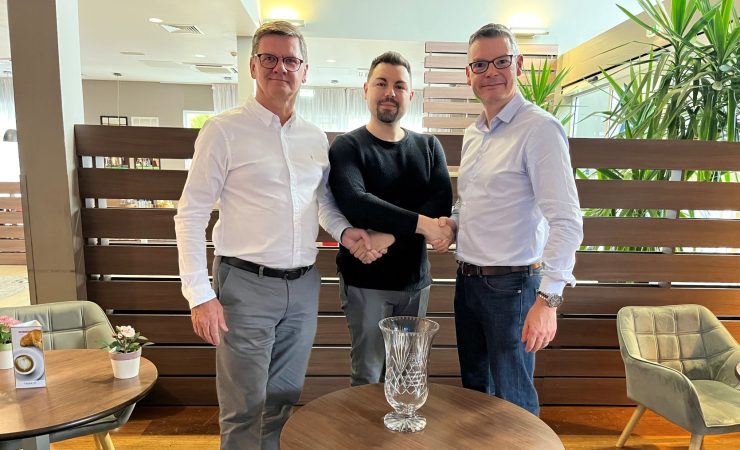 (L-R) Reproflex3 co-founder Trevor Lowes with Marco Mingozzi, general manager of ZDue and Andrew Hewitson, Reproflex3 co-founder and group CEO
Global flexographic pre-press solutions specialist Reproflex3 and ZDue, Italy's largest flexo plate maker, have renewed their technology partnership.
The two organisations first joined forces three years ago to give Italian flexo print converters and brand owners access to Reproflex3's Vortex, BlueEdge and ProjectBlue ultra-high-definition screening technologies. Since then, the alliance has made waves inside the Italian flexo and corrugated print industries, being recognised with multiple national and international award wins.
Andrew Hewitson, Reproflex3 co-founder and group CEO, commented, 'Our technical partnership with ZDue is going from strength to strength. During the past three years of working alongside and supporting each other, we have generated some fantastic new business opportunities both inside the Italian market and further afield.
'I am delighted to renew our collaboration with the exceptionally talented team at ZDue. They are as enthusiastic about producing exceptional print quality as we are, and together we are successfully delivering greater innovation and pushing the boundaries of flexo to help our clients produce print that is best in class.'
Marco Mingozzi, the general manager of ZDue, added, 'Joining forces with Reproflex3 enabled us to develop the multiple award-winning BlueEdge and Vortex screening technologies specifically for printing on corrugate.
'The flexible and corrugate packaging industry in central and southern Europe offers huge growth potential and we are extremely pleased to continue our rewarding partnership with Reproflex3. Working together enables us both to keep innovating and educating the industry about gains in print quality, cost savings, sustainability and the many workflow efficiencies that these pioneering screening technologies can deliver.'