RotoMetrics open house back with a bang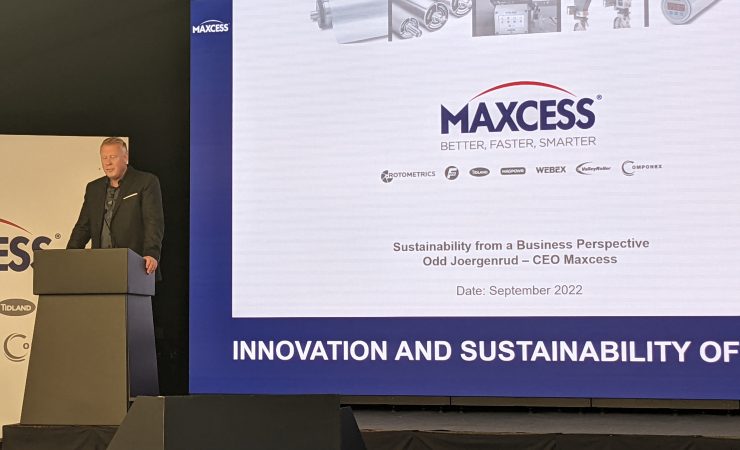 Maxcess CEO Odd Joergenrud addressing the audience at the open house
After a covid-enforced hiatus, RotoMetrics' biennial open house event returned to the company's manufacturing facility in Aldridge across 20 – 21 September.
The usual array of expert speakers and company stands greeted visitors to the West Midlands, and the traditional hog roast lunch was of course served as well.
Neil Lilly, regional sales director at Maxcess, RotoMetric's parent company, opened proceedings with an introduction covering all the current major issues facing the industry, including the impact of Brexit and the pandemic, supply chain worries, material shortages, the ongoing energy crisis and the war in Ukraine. 
Mr Lilly also returned to the stage later in the day to explain to the audience precisely how the relationship between Maxcess and Rotometrics is working, the companies' ambition to offer a total converting line solution, and their solutions to common converting 'pain points'.
In between Mr Lilly's two stints on the stage, Maxcess CEO Odd Joergenrud gave a talk titled 'Sustainability from a business perspective.' The CEO advocated prioritising the planet, people and profits in order to build a truly sustainable business.
Other speakers over the course of the opening day included Gillian Garside-Wight, director of consulting at Sun Strategy and PHD Marketing's managing director Jo Stephenson.
Ms Garside-Wight discussed 'Managing packaging sustainability every day,' casting her eye over plastic taxes, legalisation and the importance of using data in decision making. Armed with a litany of statistics and figures, Ms Stephenson looked ahead at 'Label trends of 2023 and beyond.' She covered a range of topics including digitalisation, the skills gap, the strength of different market sectors and more. 
The day closed out with a talk from Olympian Roger Black and a raffle draw. All proceeds went to support victims of the war in Ukraine, with the first prize being a signed Leicester City football shirt.
For a full breakdown of the event, including more detailed descriptions of all the talks, make sure to check out the next issue of FlexoTech.