Pro Label installs first Mark Andy DSiQ hybrid press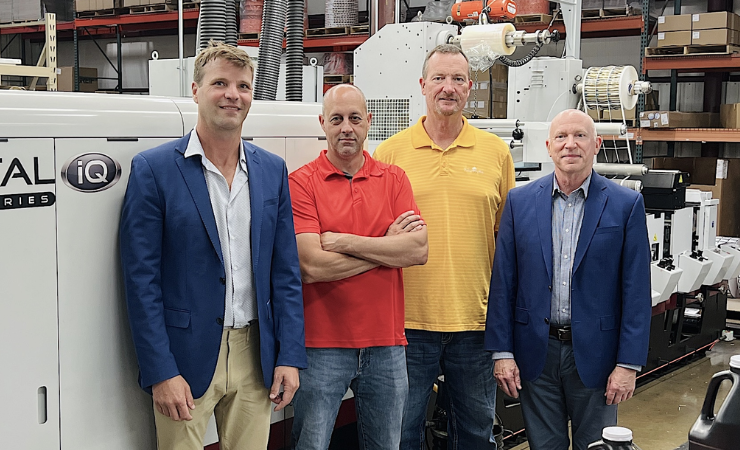 Mark Andy's Ted Bright (left) and Andy Schmitz (right) with Pro Label's Tony Simmer and Brian Hermann and the company's new DSiQ hybrid press
Label converter Pro Label is the first to install one of the new DSiQ hybrid presses that feature a Mark Andy Evolution Series flexo platform combined with Domino N610i digital inkjet engine.
The DSiQ is a press designed to fit the middle ground of digital capacity and Mark Andy sees it becoming a popular addition to its portfolio of flexo and digital hybrid technology for the narrow web sector.
The machine, which is based on the Mark Andy servo-driven Evolution Series platform, is a joint development with Domino, which supplies the N610i digital inkjet engine.
Founded initially to supply labels to the window and construction market, Pro Label moved into flexo technology to develop prime label business for the food and beverage sectors. At the same time, using the knowledge and expertise it had acquired, the company developed its own technology to supply solutions to the ice cream novelty market.
Vice president of sales Doug Thiel said, 'By 2020 it was obvious that digital/flexo hybrid technology was the way forward to best serve certain market sectors and the changes in demand that we were experiencing.
'The DSiQ allows us to run stock widths that fit the product with the material on hand, and the flexo element provides added value in terms of coatings, varnishes, metallic colours, and a variety of finishing options. It's the best of both worlds.'
With Mark Andy as a press supplier, the company already has three Performance Series P7s.
The DSiQ was instantly put to work on producing prime PS labels for the food, beverage, spirits, and OEM sectors, as well as pouches and flexible packaging for the beauty and cosmetics industries.
According to the company, the new hybrid press has shown a significant reduction in waste when running multiple SKUs, as well as offering quicker turnaround on jobs, some of which are now delivered same day if required. It has also freed up capacity on the company's seven 20" flexo presses, which have up to 10-color capacity, and are better suited to longer run work.
Mr Thiel added, 'We can now fulfil a larger volume of business where many SKUs are involved at one end of the scale as well as offering high-quality short run work on jobs where the cost of flexo plates would make the job unviable. In fact, we're only just starting to appreciate the scale of diversification that the new hybrid press offers us in markets we didn't know existed.'