Mondi and Fiorini develop recyclable paper bag for pasta brand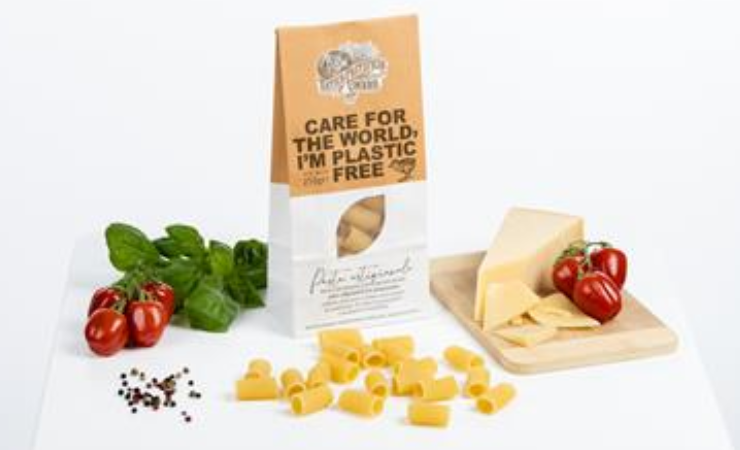 Mondi and Fiorini team up to develop new recyclable paper bag
Mondi and converter Fiorini International have collaborated to launch a fully recyclable paper packaging for pasta brand Antico Pastificio Umbro.
Following a complete overhaul of its packaging design using flexo, the Italian brand decided to work with the two companies to design and produce a paper bag with a viewing window. The collaboration supports the company's sustainability goal of reducing plastic by saving up to 20 tonnes of plastic per year.
The bag is designed with a large window made of transparent, recyclable and biodegradable cellulose that allows the end user to see the contents. It is fully recyclable while offering the same protective properties as the previous plastic packaging. The pasta has the same shelf life and is kept safe during transport. A new closure system sealed with a special food contact hot-melt glue, together with a reinforced patch on the bottom, improves hygiene and ensures easy opening. Made from renewable resources, the packaging can be disposed of by consumers in existing paper waste streams.
Massimiliano Scottà, head of sales at Kraft Paper, Mondi, said, 'This is a great example of best practice in creating packaging that keeps materials in circulation and contributes to Mondi's sustainability target to make 100% of its products reusable, recyclable or compostable by 2025.'
Pietro Fiorini, sales director of packaging at Fiorini International, added, 'Ethical and environmental responsibility are the values that lead the daily activities in Fiorini International. We designed, together with Mondi, the best performing paper solution for the pasta bag.'
Leonardo Faccendini, CEO of Antico Pastificio Umbro, said, 'Reducing the environmental impact of our products – their manufacture, packaging and transport – is a top priority for us as a company, and replacing traditional plastic packaging with paper is a major step towards achieving this goal. We are investing in new systems and a plant and plan to roll out this plastic-free packaging across our entire pasta range.'