Silver Fox adds FB-350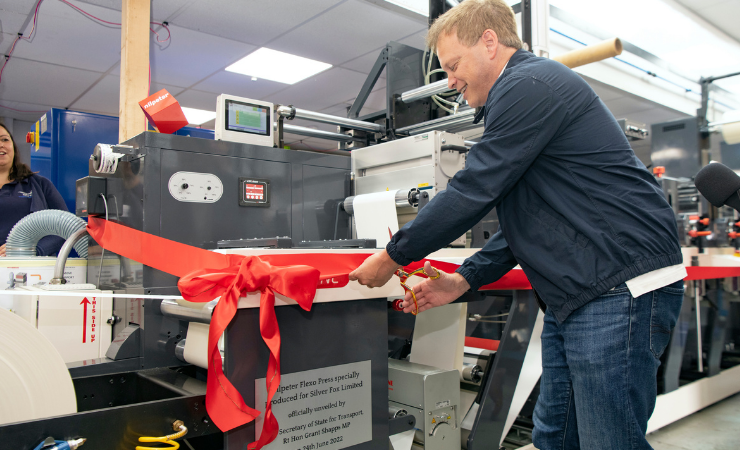 UK Secretary of State for Transport, Grant Shapps MP, cuts the ribbon on Silver Fox's new Nilpeter FB-350, at a special event on the 24 June 2022
Silver Fox, a Hertfordshire-based company that claims to be the UK's only carbon-negative manufacturer of cable labels, has acquired an a FB-350 Nilpeter printing press complete with a UV-LED system.
The company, which was founded in 1977, develops, manufactures and supplies high-grade cables, wires and equipment to industrial sectors around the world. Managing director Nicholas Michaelson said, 'This new machine, coupled with our increasingly knowledgeable and skilful local workforce, will allow us to further support and enhance our growing network of distributors across the globe.
'Additionally, these new production capabilities will enable us to be even more responsive to customer needs, as well as open up the opportunity to develop new and innovative label types, for use with our Fox-in-a-Box labelling kit.'
The new press was officially unveiled on 24 June by The Secretary of State for Transport, the Rt Hon Grant Shapps MP. It is more than 10m long and will allow Silver Fox to achieve 100% in-house production of labels. The FB-line has an automated plate positioning system with pre-register and re-register functionalities to increase operator friendliness and add automation.
Managing director of Nilpeter Nick Hughes said, 'It was a very interesting project selling a press to Silver Fox. It was great finding a new customer away from our traditional marketplace – finding such a bespoke product of cable making systems, which has never been on our radar.
'However, the FB-350 was up to the challenge and gives Silver Fox not only additional capacity but opens their marketplace to some special constructions. We wish the team even more success in the future.'