Asahi water-washable plates adopted in Missouri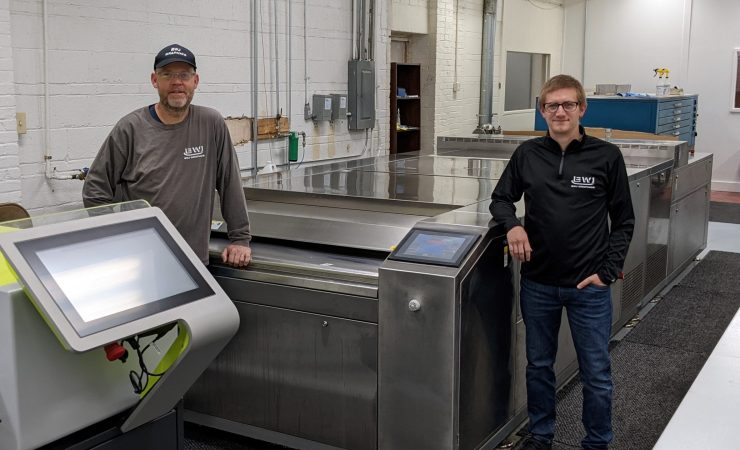 Members of the BWJ team onsite in Missouri
BWJ Graphics, an American supplier of flexographic equipment including rubber and photopolymer printing plates, has adopted Asahi Photoproducts AWP CleanPrint water washable plates.
The company, which is based in Joplin, Missouri, was previously using a platemaking system that relied on VOC solvent washout but its customers were increasingly looking for faster delivery times and cleaner plates that delivered higher quality.
As a result BWJ worked with Asahi and its distributor Wikoff Color Corporation to look for a more sustainable solution that would give their customers what they were looking for.
Scott DeLano, the president of BWJ Graphics, commented, 'As we worked with Asahi and Wikoff, it became clear that transitioning to Asahi's AWP CleanPrint water washable plates would be the ideal solution for meeting these growing customer needs.
'A key benefit of the CleanPrint technology is the fact that it reduces platemaking time to less than an hour, which allows us to quickly and successfully make plates even with last minute orders. Not only have these plates and the faster delivery time increased the satisfaction of our existing customers, but they have enabled us to acquire new customers as well. And we have received excellent feedback as to the print quality these plates deliver and their overall cleanliness.'
Asahi claims that its AWP CleanPrint plates are the 'most sustainable flexographic plates in the industry.' They are processed without VOC-based washout solvents, deliver a faster time to press than VOC solvent-based alternatives, make use of an engineered photopolymer chemistry design and their water-wash technology also features a low surface energy plate resulting in fewer press stops for plate cleaning.