Zeus snaps up British packaging duo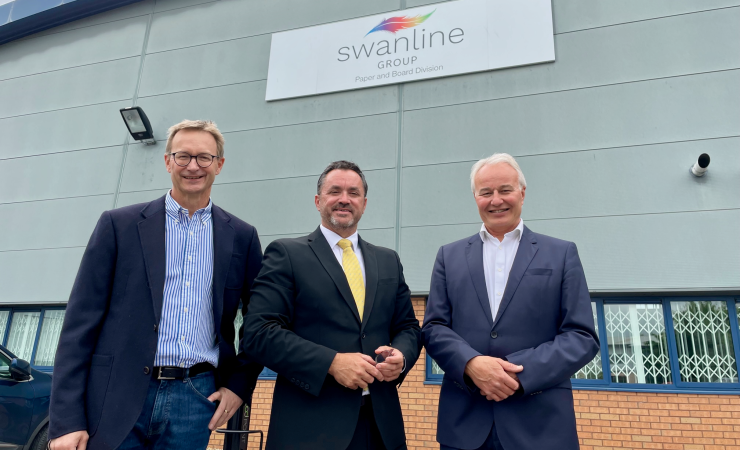 (L - R) Swanline MD Richard Towers welcomes Zeus CEO Keith Ockenden and group CEO Nick Kirby to Staffordshire 
Irish packaging solutions giant Zeus has acquired British sister companies Swanline Group and BoxMart. The deal is worth more than €25 million and means that Zeus remains 'on track to be the largest sole shareholder packaging company in the world by 2023.'
Founded in 2001, Swanline Group describes itself as the UK's leading trade-only supplier of paper-based materials, print and conversion services to the packaging and point-of-sale sectors. Meanwhile BoxMart is a packaging supplier offering UK-made gift, retail and ecommerce packaging. Both companies are based in Staffordshire, England.
The two companies have a combined revenue of more than €30 million and Zeus believes that adding these two companies to its portfolio will help it to reach half a billion euros in revenue next year. The acquisition will naturally also strengthen the company's position in the retail, food and beverage, and ecommerce packaging sectors.
Commenting on the news, Zeus CEO Keith Ockenden said, 'It is a significant day for Zeus as we continue our current investment strategy with the acquisition of two very strong players in the UK packaging sector.
'Swanline Group and BoxMart bring with them long-established customer bases, in-depth knowledge about their respective sectors, and dedicated diverse teams who are committed to serving their customers. As a combined entity, we have enhanced our reach and offering across the UK, with further opportunity to maximise efficiencies across our distribution and supply chains, whilst broadening our product and service offerings to our existing customers.'
Founder Brian O'Sullivan added, 'Our journey over the years has provided opportunities to strengthen our capability, widen our offering and learn new disciplines. The addition of these businesses into our family will complement the range of solutions we provide our customers, strengthen design, creativity and innovation within packaging and introduce a depth of experience within new sectors.'