Mark Andy showcases hybrid technology in Poland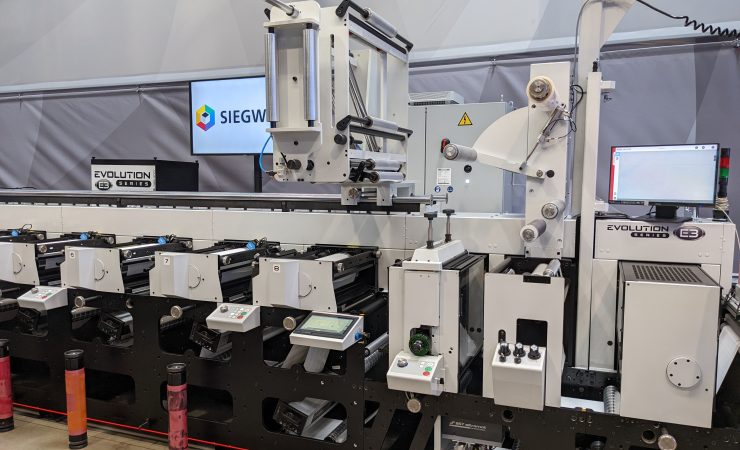 Mark Andy's Evolution Series E3, on display at the company's facility in Warsaw
Mark Andy has hosted 'The Power of Hybrid Forum', an open house event at its Warsaw facility which showcased its hybrid printing technology, as well as its Evolution Series 3 flexo press. Also on display in the Polish capital were the Digital Series IQ (making its European debut), the Digital Series HD and the Digital Pro 3. 
The organisers stressed that after almost two years of lockdowns and travel restrictions, as well as the cancellation of LabelExpo Europe 2022, they were keen to welcome industry media, customers and potential customers to their facility in order to properly demonstrate their equipment and reinforce what the technology is capable of. 
The Evolution Series 3 is a full servo machine, powered by Mark Andy's Performance Series, which the manufacturer describes as 'ideal for printers focusing on high quality labels, including industrial ones, tags and tickets, as well as special cosmetic and healthcare labels.' The press is available in two different web widths, 330 and 430mm (13in and 17in), and can handle substrates between 50 and 305micron. It comes with a double independent drive for each printing unit, 'robust die-cutting and precise web tension control.'
The Digital Series IQ, the most recent addition to the company's hybrid offering, is a fully-integrated inkjet press built onto an Evolution Series flexo platform. It is powered by a Domino N610i UV inkjet module. Mark Andy says that hybrid converting components can be integrated as customers require, with additional print stations, semi-rotary die cutting and inline slitting all popular options. The press can print at speeds of up to 70m/min in high production mode and its fully integrated nature means that the manufacturer is describing it as a 'game changer for profitability metics.' It can also be equipped with a Kurz Distorun embellishment module, which was also demonstrated over the course of the open house.
Executive vice president Tom Cavalco was present at the event, having flown in from Bogota especially to take part, and he addressed issues ranging from the supply to chain to the war in Ukraine. He explained that lead times have extended from eight weeks to in excess of 20 weeks as a result, but also pointed out that, despite these and other challenges, last year was Mark Andy's most successful in its entire 75 year history, with almost 80 machines being sold in Europe alone. 
Mr Cavalco also highlighted the continuing strength of Mark Andy's presence in the UK and Poland, as well as its growing share of the market in both Germany and the Benelux region. Understandably, demand in Eastern Europe has dried up recently, but the company is developing its presence in Latin America, particularly in Mexico and Colombia. Another area of interest was RFID, where demand in the USA is long established but is only now starting to accelerate in Europe.