Iceland moves to monomaterial cheese packaging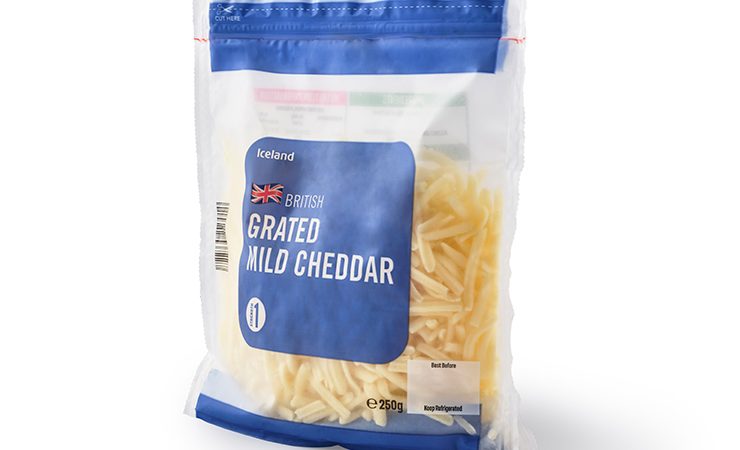 Coveris has launched a range of recyclable, reduced plastic pouches for Iceland's grated cheese, supporting the retailer's commitment to becoming the UK's first plastic neutral supermarket
Coveris has launched a range of recyclable, reduced plastic pouches for Iceland's grated cheese, supporting the retailer's commitment to becoming the UK's first plastic neutral supermarket.
Moving from a former mixed, nylon laminate to a new fully recyclable polyethylene (PE) monolaminate, Coveris' MonoFlexBE pouches use 1g less of plastic per pack to deliver an easy to recycle option, with a significant plastic weight saving. These packs are printed using flexo, although the barrier monomaterial, 'makes them unique and printable via multiple processes,' according to Covers.
Available across 250g packs of Iceland's grated mature and mild cheddar, and grated mozzarella, the new lightweight pouches offer a total plastic weight saving of around seven tonnes a year, whilst 41 tonnes of plastic are now easily recyclable nationally through retailer front of store plastic film collections, including Iceland's in-store plastic collection and recycling service available in over 150 Food Warehouse stores.#
Matching current shelf-life and delivering like-for-like functional performance, the packs also support Iceland's food waste reduction commitments, as well as Coveris' own vision for 'No Waste'.
Stuart Lendrum, head of packaging, quality and food safety at Iceland, said, 'Our journey to plastic free will be supported by great work like this, which helps us all reduce plastic and ensure the plastic we do use is easily recyclable.'
Mark Robinson, Coveris' UK flexibles technical director, commented, 'Delivering major sustainable benefits in line with Iceland's plastic-neutral commitments as well as our own plastic and food waste reduction targets, the packs deliver real sustainable innovation with no downsides to freshness or performance for a technically challenging, extended shelf-life product.'