DLS expands production to keep up with demand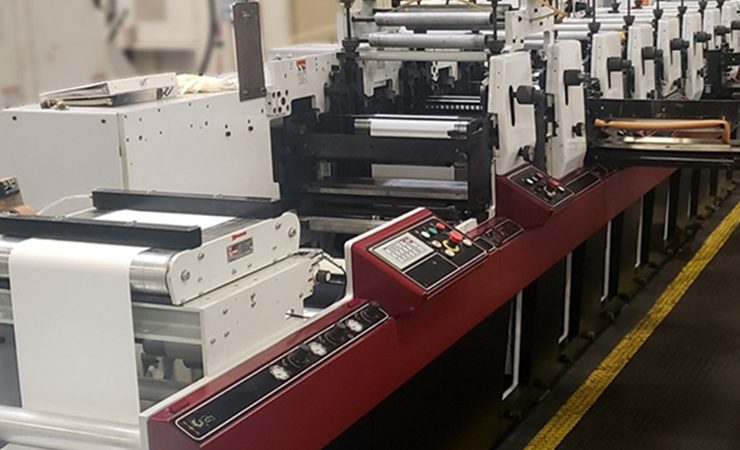 One of DLS' new Mark Andy flexo presses
Diversified Labeling Solutions (DLS), a nation-wide converter of pressure-sensitive labels in the US, has significantly expands its production capacity with new equipment, including five Mark Andy flexographic presses and complementary converting technology.
DLS is a wholly-owned subsidiary of TSC Auto ID Technology, and has been producing pressure-sensitive labels since 1985. All products, from blank labels to full colour high-definition labels, are produced utilising a fleet of 50 flexo and digital presses, as well hybrid press lines, located across the US.
Having reported significant growth in demand for pressure-sensitive labels over the course of the coronavirus pandemic, DLS has invested to keep up with customer demand, and has now expanded its production capabilities through new equipment installed at its facilities in Reno, Nevada, Duluth, Georgia, Arlington, Texas, and Itasca, Illinois.
Specifically, a 17in, two-colour Mark Andy 2200 flexo press has been installed in Reno, alongside an A B Graphic (ABG) Vectra AutoSet Model SGTR1700-4 glueless turret rewinder, and a Martin Automatic roll slicer. The Duluth facility has added a 17in, eight-colour Mark Andy LP300, whilst the location in Arlington has installed a Mark Andy 4150 in one-colour configuration and 21.5in wide, as well as a die-cutter. At the DLS facility in Itasca, two new press lines have been installed including a 17in, four-colour Mark Andy 2200XL and 17in, two-colour Mark Andy 2200XL. Both of these press lines have Martin Automatic roll splicers and ABG turret rewinders for complete inline production capability.
DLS CEO Jim Kersten said, 'For the last year and a half, we have seen unprecedented demand for labels. Growth has been especially pronounced in large volume label orders for manufacturing, warehousing, distribution and logistics operations. This new equipment allows us to substantially increase our capacity while also expanding our geographic reach. As growth in label sales continues, we will continue to invest in people, equipment and process improvements to support this growth.'
As an example, the new equipment at the Reno facility will allow DLS to save hours of costly set-up and changeover time. In addition to expanding label printing capacity, this press and finishing equipment provides additional capabilities for the efficient production of small roll labels like those used in mobile thermal printers.
The overall investment in five new flexo presses across the business adds redundancy to the company's wide web fleet. This allows the DLS team to produce multiple large orders at once, increasing long run label production capacity. The new presses are strategically located throughout the country, with the investments at the Reno, Duluth and Arlington facilities to provide additional service for customers located in the West, Southeast and Southwest regions of the US, respectively.
DLS COO Bill Johnstone said, 'As a trade-only label supplier, our customers depend on us to get production completed as soon as possible. Ultimately, our goal is to help our distributors better serve their label customers. In addition to the new presses that we have already installed, we are continually exploring opportunities to improve our processes to optimize production capacity to meet our customers' demand for quality labels.'