Rotocon appoints new managing director in Asia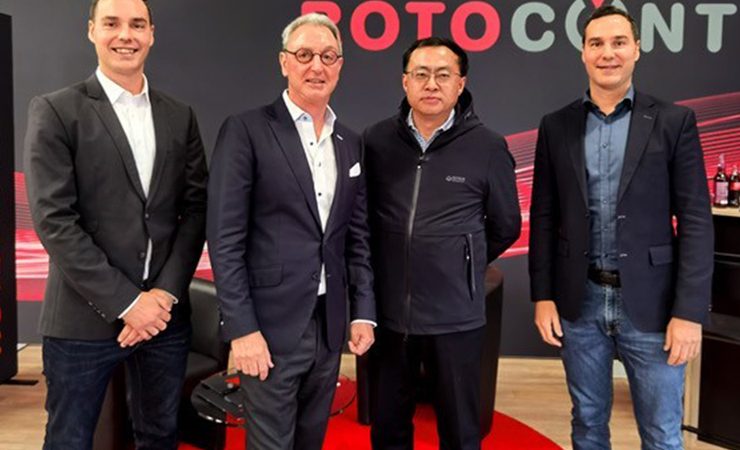 Michael Aengenvoort, Pascal Aengenvoort and Patrick Aengenvoort met face-to-face with Michael Wang at a recent Rotocontrol open house in Siek, Germany
Rotocon has appointed Michael Wang as managing director of its subsidiary in Asia.
Mr Wang began working with Rotocon in 2013, developing an economy line of finishing equipment to meet technology investment needs of balancing the highest possible machine specifications with competitive pricing. Since then, the Ecoline brand has grown to encompass seven systems of slitter/rewinders with inspection, an ultrasonic anilox roller cleaner, a plate mounter, and a cost-efficient flexographic printing press.
Ecoline machines are produced in the China–Singapore Suzhou Industrial Park (SIP) area, where Mr Wang resides and oversees design changes and production.
Having lived in Canada for many years, Mr Wang commented, 'Living in a westernised country taught me how to bridge differences between cultures and maintain open communication, which I believe helped foster the open and trusting partnership Rotocon and I share today. It's an honour to now lead the Rotocon Asia subsidiary.'
Rotocon CEO Michael Aengenvoort said, 'From the very beginning of our interactions, Michael Wang was always open to find ways to customise and optimise Ecoline machines to meet our design goals and incorporate customer feedback. Over the years, we formed a strong partnership built on trust, which is especially important when doing business in different continents and cultures. Appointing Michael Wang to lead our Rotocon Asia subsidiary was a logical decision.'