Evolution E3 installed by FANO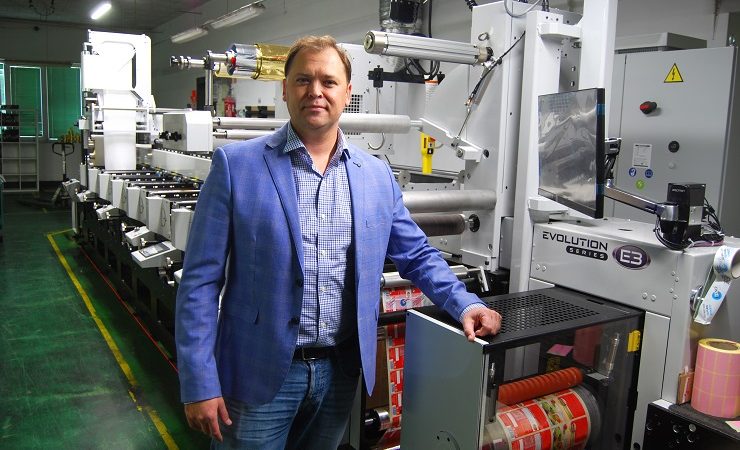 Boleslaw Jasinowicz
Warsaw-based manufacturer FANO has installed a eight-colour 13-inch web Mark Andy Evolution Series E3, with cold foiling, die-cutter and UV dryer, for printing highly processed self-adhesive labels.
Mark Andy Evolution Series E3, implemented this September, handles 13-inch wide web and is equipped with six printing units (based on Pro UV technology), foil reversal system, cold foiling station, die-cutter as well as pre- and autoregister.
'We wanted the press' configuration to meet the changing needs and requirements of brand owners and consumers,' said Boleslaw Jasinowicz, vice president of FANO, 'In cooperation with our customers we often undertake very difficult projects, being a challenge for less experienced converters. We have been co-operating with middle and big customers who are increasingly looking for highly processed, advanced labels, including different types of finishing and embellishment. Therefore all three presses from Mark Andy, purchased during last 10 years, including Evolution Series E3, are equipped with many options, allowing for making very ambitious, demanding orders we specialise in.'
After the successful implementation of a new press, two Performance Series P5 presses were redirected for producing laminates and shrink sleeves.
Mr Jasinowicz continued, 'Now we can manufacture them faster and offer our customers a shorter delivery time. On the other hand, a new press means bigger production capacity that has to be filled. Considering it, we have accelerated our sales activities, outside of Poland too. It's worth mentioning that export equals to more than dozen of our sales turnover and this number is still growing. When looking for and achieving new customers, we mostly act directly. Every year we try to be present at numerous trade fair events, either devoted to packaging or label markets (e.g. we had a booth at this year's Packaging Innovations exhibition), or the ones devoted to industries of our customers (cosmetic- or spirit-oriented events can be examples). It's a direction we want to follow in 2022, too. We hope that trade fair industry will be back to normality next year.'
FANO is a family-owned business established by Janusz Jasinowicz in 1986 and is currently the company is managed by his son Boleslaw.