FlexoTech Awards cheer for Encore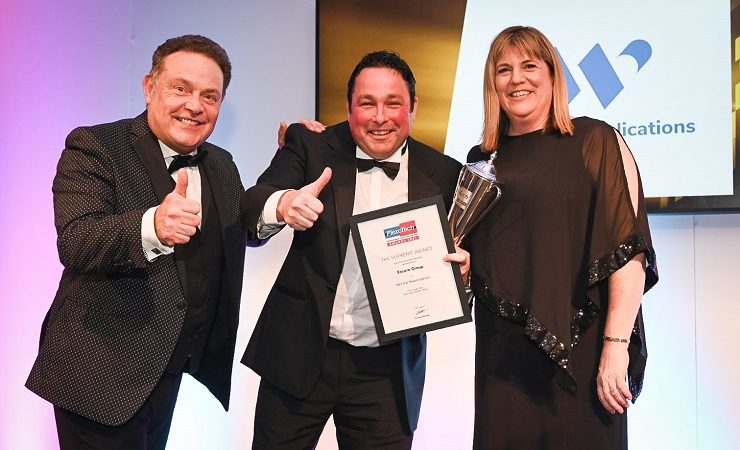 Encore Group has won the Supreme Award at the FlexoTech International Print and Innovations Awards 2021, with its M&S Your Reward Statement awards entry.
The entry was submitted into the Process Colours Only category and achieved great admiration from the judges for its demonstration of excellent control, balanced skin tones, neutral greys and multicolour builds, all while using water-based inks.
The Supreme Award is given to the highest scoring category winner, and explaining the high score given to this entry the judges commented, 'As to be expected the running for the Supreme Award this year was incredibly tight. However, in the end, what made the difference was the exceptional control and results achieved using water-based inks.'
The ceremony was the first time that the flexo industry was able to gather together since the beginning of the Covid-19 pandemic in 2020. Held at the Royal Lancaster, just north of London's Hyde Park, guests were treated to a night of sophisticated dining before being entertained by comedian, John Thomson. Once the ceremony was concluded, guests were able to network into the night and had a choice of arcade games to enjoy throughout the evening.
The category winners are:
Labels (process) sponsored by Dantex Group.
NSD Labels for Sir Mark Royal
Labels (line and tone) sponsored by Focus Label Machinery
The Label Makers for Crown Paint Grey
Flexible packaging (narrow web) sponsored by Cheshire Anilox Technology
Peltolan Pussi for Myllarin Luomu Lettu – ja Vohvelijauho
Flexible packaging (medium web) sponsored by hubergroup
Roberts Mart & Co for Uniq Relax 24 Multi Caps
Flexible packaging (wide web) sponsored by Bobst
Roberts Mart & Co for Milky Way Delights 165g
UV flexo on paper or board sponsored by GEW  
Reflex Labels Plus Keighley for Kingsland Aldi Kooliburra Viognier Front
Corrugated post-print (A-D flute) sponsored by Esko                      
DS Smith Livingstone for Johnnie Walker Red Label VAP Gift Pack
Corrugated post-print (E and F flute) sponsored by Reproflex 3
Wellpappe Auerswalde for Desserts & Süβe
Best use of hybrid printing sponsored by Nilpeter
The Label Makers for The Kraken Black Spiced Rum
Process colours only sponsored by Lohmann Adhesive Tape Systems
Encore Group for M&S Your Reward Statement
Originally printed by another process sponsored by Miraclon
Packaging Technologies Inc. for World Part Rotors
Digital labels and packaging sponsored by Xeikon
NSD Labels for Heroes 1940s
Best use of embellishments sponsored by UEI Group
MCC Daventry for Jacob's Pardon
Environmentally sustainable company of the year sponsored by SGK-Connect
Desmedt Labels
Best newcomer sponsored by MPS
Trevikart for Wine Passion Promotional
Best use of ECG sponsored by XSYS
Flawless Labels for Fabulosa 220ml bottle composite
Promotional print sponsored by Heidelberg
Trevikart for Wine Passion Promotional
Innovation sponsored by Packaging Innovations 
Touchguard International for Touchguard
Supreme award sponsored by Whitmar Publications
Encore Group for M&S Your Reward Statement