Coveris unveils Film Science Lab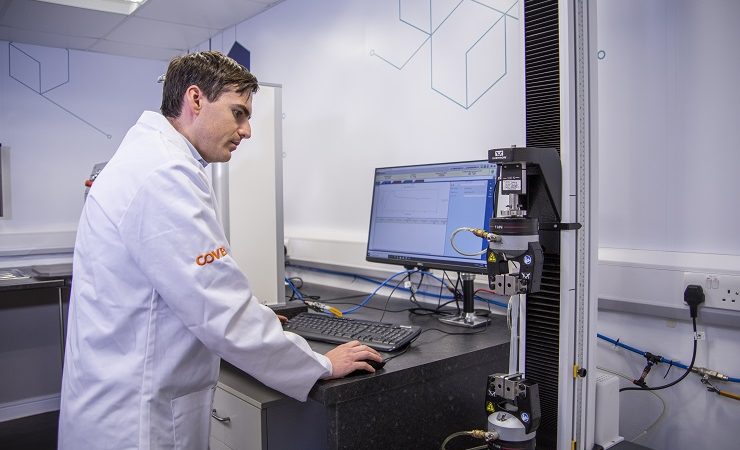 Packaging manufacturer Coveris has today unveiled a new Film Science Lab at its Winsford films facility in Cheshire, UK.
The lab will support the development, formulation and analysis of new and improved recyclable polyethylene (PE) films for food and non-food applications.
Supporting the Group's vision of no waste across its operations, packaging and the products it protects, the new Film Science Lab sets out to minimise waste in all three areas.
Responsible for developing the sustainable films of the future, the lab targets material reduction through downgauged films alongside the development of recyclable barrier and laminate replacements with advanced functional performance up to 9-layers.
Meeting increased demand for recycled content, driven by the 2022 legislative UK Plastics Packaging Tax requirements, the lab will research food-safe recycled content application via mechanical sources, including its own reprocessing operations and closed-loop partnerships, as well as chemical recyclate options supported by its recent ISCC+ accreditation.
Linking to a global innovation network, the new Winsford facility will work alongside other R&D centres within Coveris, including the Group's complementary analytical support lab and testing facility in Kufstein, Austria. Having also recently launched a satellite test lab at its Louth site in Lincolnshire, this facility is set to support the material needs of the beverage films sector including shrink, heat and ink testing.
Mike Richardson, technical director of the Winsford site commented, 'Having led the technical development of PE films for over 25 years, the new lab marks the next step in our journey to offering an even more sustainable solution – not only maximising the recyclability of our products, but also their recycled content. Food safety and operational assurance are paramount in the consideration of new materials, particularly recycled films, therefore having a dedicated scientific resource and test facility to mitigate risk and accelerate development enhances our existing capabilities and provides huge benefits for our customer base and the wider industry moving forward.'