GMG ColorServer synchronises production at Bakers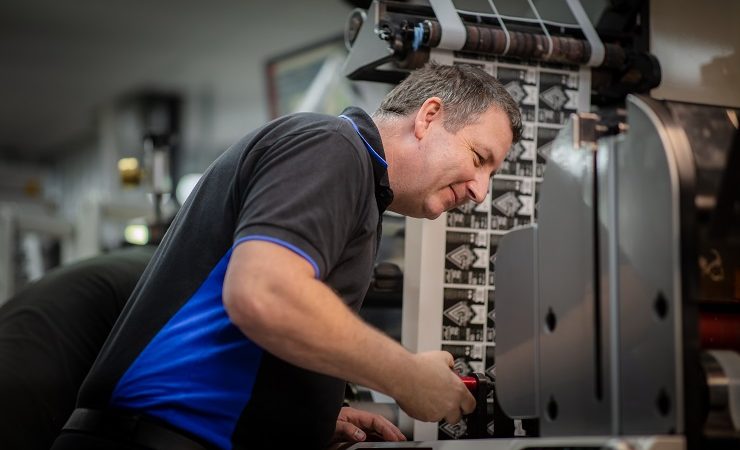 Baker Labels has invested in a new colour management system from GMG Color to ensure internal production efficiencies across its different print processes.
One of the main challenges at Bakers is achieving standardisation across three different print process, digital toner, digital inkjet and flexo.
The decision to bring in GMG ColorServer Multicolour, plus proofing options, for all print applications, was based on the requirement to confidently complete any colour matching element as early on in the production curve as possible and to ensure internal production efficiencies were maximised at all times.
Having this range of print capabilities is vital to Baker Labels' strategy of supplying labels with widely various customer requirements, consistently to a high standard and with a fast turnaround.
In 2020 Baker Labels launched its flexible packaging division, BakPac for digitally printed pouches. Although the labels and flexible packaging departments supply different market sectors, the fundamental principles of printing and good production practice are consistent across the two.
Bakers' technical manager, Jamie Godson, said, 'I was confident that GMG offered us a solution that would complement our existing Hybrid workflow software. The solution is user friendly and in a nutshell "does what it says on the tin". No doubt there are many good colour management products out there but the GMG brand is synonymous with colour management. In terms of business, it has helped reduce colour related issues. Using the GMG system we are accurately and confidently simulating press output within the studio/planning environment helping make our production workflow more efficient whilst simplifying the decision making process with regards to colour.'
Mr Godson continued, 'The installation went very well. The GMG members on the install team were very helpful in not only giving us a starting point with the system but also explaining to us the background of how it works to further our knowledge with the product.
'The GMG installation gives the ability to match historic jobs, even if they were originally printed incorrectly for whatever reason. The spot colours are scanned in, verified by outputting an Epson proof and then sent to press. This technique has proved very reliable with us pretty much matching all spot colours first time when we eventually get to running them up on press.'
GMG Color sales manager, Paul Williams, added, 'We feel privileged to partner with Baker Labels in their quest for colour matching and print room efficiency, in what is a very complex environment with differing print technologies and multiple substrates. Bakers are using GMG ColorServer Multicolour to consistently convert customer-supplied files into the desired output colour space of the various printing technologies, through the integration of GMG OpenColor profiling technology. As the whole process is automated, we've been able to achieve significant time savings in data processing for Baker.'