First Nilpeter FA-26 installed in Denmark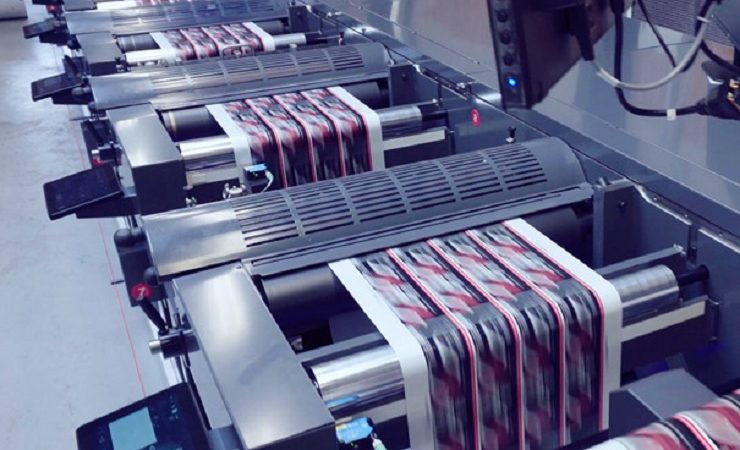 FlexoPrint has become the first Danish printer to install the Nilpeter FA-26, allowing the company to produce value-added short run flexible packaging and labels.
The FA-26 is the latest and widest flexo press Nilpeter has ever developed. Designed for value-added short run flexible packaging and labels, all inline, and fully sleeve-based, both for anilox and plate rollers.
'We identified a lot of customer products that could be run better and more efficiently on the FA-26,' said Lars Ole Nauta, CEO of FlexoPrint, 'In addition to that, we see a gap in the market between the big foil printers and the narrow-web business. The foil printers usually have very long lead times, where we in the label business are used to very, very short lead times. So if we can combine our label world into the foil world, perhaps there's a market there.'
Designed to print with water-based and solvent inks, with UV, LED, and E-beam processes – in any combination, the FA-26 is a game-changer in short and long run flexible packaging printing. From pouches and sachets, to wrap-arounds, shrink sleeves, labels, and more.
'We have followed the development of the FA-26 over the last few years, and it's just like we want it. It's very lean. It's very simple,' said Mr Nauta. 'Efficiency in pricing and competitiveness is very important for FlexoPrint, and also for the Optimum Group, when we purchase machines. It's not something we take lightly. Actually, I've always said buying hardware is one of the most difficult jobs as a CEO. It will follow you for many years. So we did a thorough investigation, months and months of calculating, and thinking about which way to go. At the end of the day, we thought that the FA-26 was the right choice for us.'
'We are proud to install the first FA-26 in Denmark. FlexoPrint has the right mindset to get the most out of this new printing technology. The company has a strong focus on creating bottom line value through high printing quality and production efficiency, and before deciding to purchase the press, FlexoPrint actually ran their own production jobs on the press in order to calculate ROI and justify the new investment,' said Jesper Jørgensen, global sales manager, Nilpeter.