Inkmaker rebrands to IM Group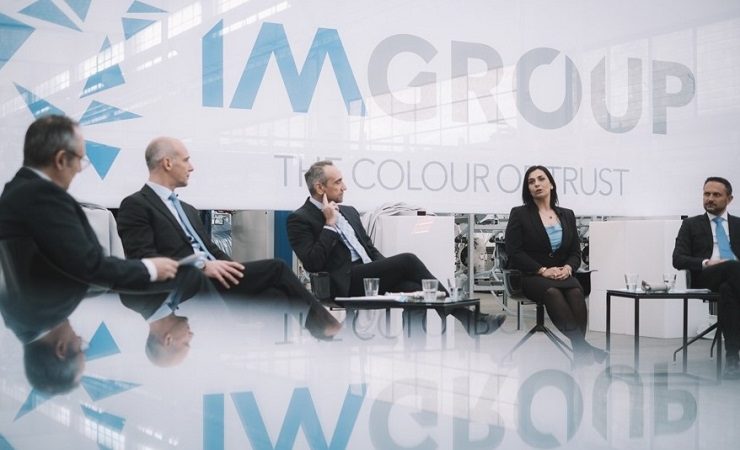 Leaders of IM Group at the launch
As of the 22 April 2021, Inkmaker Group has rebranded as IM Group, with its own distinct identity, to better compete in the marketplace as a 'total-solutions provider'.
The move comes after years of acquiring several companies combining expertise, intelligence, technology and hardware. It will now consolidate all its brands under a single holding group, the IM Group.
Silvio Cimenti, global director of branding, marketing and communications, IM Group, said, 'The decision to rebrand Inkmaker Group as IM Group stems from the group's Vision, which is to evolve Inkmaker Group as our technology to expand in our fields and adapt, the advantages of our products, to new markets'
Christophe Rizzo, CEO EMEA/Americas, IM Group, added, 'Since October 2019, Inkmaker has made large investments, on the acquisitions of the businesses of Rexson and Vale-Tech, in UK; Tecnopails, in Italy; and most recently Swesa, in Germany. The driving strategy behind these acquisitions was to create a reliable complete supply chain—serving predominantly, but not only, the ink, paint and coatings industry—to sustain our core businesses.
'This meant restructuring our brands into various specialities, yet to still be one strong force, hence the need to rebrand the existing Inkmaker Group brand, to have an identity of its own, as an autonomous holding brand; this is the evolution of Inkmaker Group, which is essentially that of Inkmaker.
'Due to its acquisitions, Inkmaker grew by 25% globally. Taking into account the current challenges the pandemic has caused; this is still on track with our vision. Now having the holding brand, IM Group—to steer all our speciality brands—we foresee all our brands to grow exponentially.'
With the restructure of the brands; Inkmaker will focus on ink dispensing and software design, Rexson will provide paint and liquid ink, Vale-Tech will focus on narrow-web and paste-ink dispensing, Swesa will provide food, pharmaceutical, corrugated packaging and cosmetics, Teko will remain in POS Tinting and R&D Training, and Tecnopails will focus for filling solutions.
'Being a "Total Solutions Provider" is our mission, and this is precisely why we acquired the brands that we did. Our strategy is to create areas of excellence dedicating each of our brands to a specific expertise, that can come together—like our logo—to form a strong force. Each brand can still work individually with its existing clients in its own markets and when required share their expertise—offering Total Solutions—for example on large turn-key plant engineering projects. This guarantees resource optimisation and high flexibility to manage projects of all sizes,' explained Gianluca Incerti, global commercial director, IM Group.
He continued, 'For example; Rexson and Vale-Tech had their own unique technology, now, that we are one large team, we are consolidating each brand's strength and combining, resources, technology and software and we can take a tremendous advantage in the integration with Inkmaker to offer state of the art solutions.'