Hawksmoor at home range developed by Coveris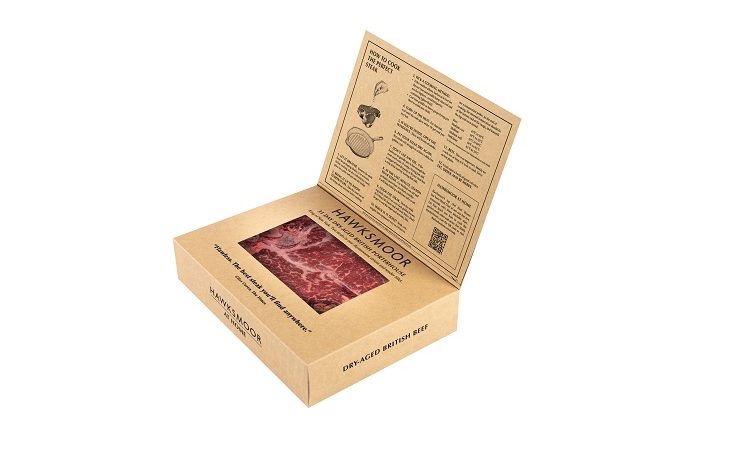 Coveris has worked with restaurant chain Hawksmoor to launch its new 'at home' range, which is ow available on Ocado, as the company looks to adapt to lockdown lifestyles.
Carefully considering the environmental impact of its packaging through minimisation and sustainable materials, the new twin kraft boxes have been designed in house by Hawksmoor and manufactured at Coveris' Board division.
This features seven packaged steaks including individual prime cuts such as Ribeye, Sirloin, Rump and Fillet and larger cuts such as Prime Rib, Porterhouse and T-Bone. Additionally, the individual prime cuts join the growing Hawksmoor at Home range and are available to order for nationwide deliveries via Hawksmoor's online shop.
Supporting the brand's responsible business model from farm to fork, the boxes are made from a lightweight, recycled board that is fully recyclable after use. With each steak lovingly packaged in its artisan look and feel box, the packs also incorporate a viewing window and recipe flap.
The design works to minimise packaging whilst offering additional protection throughout transit to ensure safe and fresh delivery of the premium product. Coinciding with the launch of Coveris' own NO WASTE sustainability vision which looks to cut waste across three critical areas – packaging, product and operational waste, this project provides a perfect fit between the business models and sets the standard for the responsible packaging of the future.
Rob Court, new business development manager at Coveris' Board division said, 'We're really proud to have launched these packs and supported Hawksmoor in bringing their amazing brand into the home. As we all know, the landscape for the restaurant industry has changed dramatically over the last year and though we hope this returns to normal as soon it safely can, we are equally excited to be supporting more brands looking to make that jump into online retail. The considerations that need to be made when transporting premium restaurant products through new supply-chains are complex and with our knowledge and expertise in this sector, we are able to do this in a more sustainable way.'