Freppel switches to Asahi plates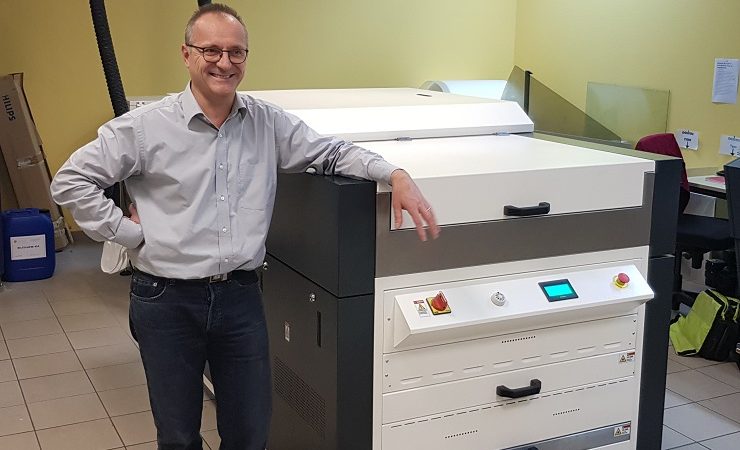 Denis Maciuk, senior executive at Freppel Imprimeur
French firm Freppel Imprimeur has chosen to switch to Asahi CleanPrint AWP plates to improve quality and service while reducing its environmental footprint.
Denis Maciuk, senior executive at Freppel Imprimeur, explained, 'We learnt about Asahi AWP CleanPrint water-washable plates, and decided to test them against plates from our existing supplier. The test results we got from the test were more satisfactory across the entire production process than the current production we have with our previous supplier, so we decided to change supplier.'
Also important to Mr Maciuk and his team was the proximity in-country of talented French-speaking business development and technical support resources, which Asahi Photoproducts has relatively recently invested in.
'The Asahi staff who supported us were very efficient,' he continued. 'We received excellent training, and we believe that will enable us to be largely self-sufficient. But it's important that someone be available when a problem arises; although we have had few problems, the Asahi team has been highly responsive when we did need them.'
The company expects to achieve significant improvements by simply replacing plates and the plate processor, with no other significant workflow changes. 'Our return on investment will depend on an increase in the productivity of in the pressroom,' he said. 'It will rest on a faster platemaking process, on the quality of the parameters on the production chain, and on the quality of the plates that will help minimise press stops, improving our OEE. It is too early to come up with specific figures. But the start went very well, and we think that we will achieve productivity gains of 10 to 20% across the entire process, which is a significant improvement for us.'
In addition to the plate change, Freppel added an Asahi AWP 2530AA processor specific to the AWP plates from Asahi. 'This equipment was one of the keys needed for the quality we wanted to achieve,' Mr Maciuk added. 'It gave us the level of in-house control of the platemaking process that was essential to reach the optimal result for which we were striving.'