Ink runs through the veins at Aztec Label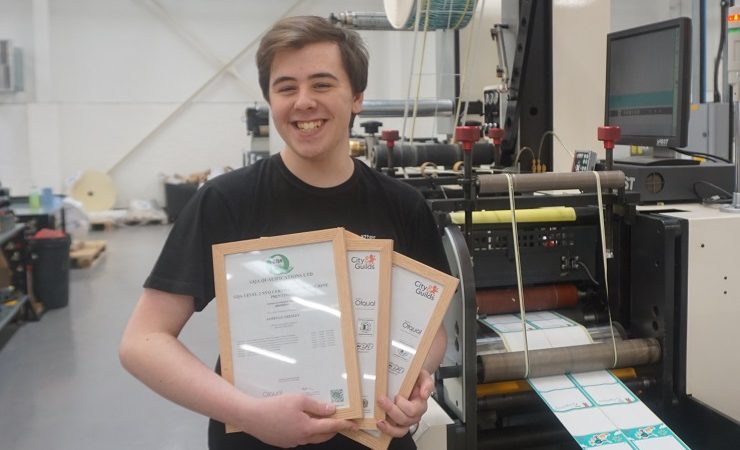 James Le Gresley proudly holding his new qualifications
The foundations of a printing dynasty are being laid at Aztec Label, after the owner's son has gained a professional qualification under the British Printing Industries Federation (BPIF) Apprenticeship scheme.
James Le Gresley, 19, has spent the last two years working to attain the Level 2 Award in Printing and Graphic Communications – Machine Printing, and has become the company's first employee to do so.
The BPIF training course takes in all aspects of managing print production, and although it runs over a 24-month period, it can be completed sooner dependent on the individual learner's time away from press and their understanding of course content.
'We're very proud that James not only successfully completed the course, but that he did it well within the two-year timeframe,' said Aztec Label managing director – and James' dad – Colin Le Gresley. 'James showed a keen interest in learning about the business from an early age and so this course was the perfect way for him to gain the professional qualifications and grounding that will help him in his future career.'
As well as the on-the-job training, James undertook all BPIF coursework and meetings on site to complete his apprenticeship at the Aztec Label facility. 'We purposely put James through many different departments of the business, taking in everything from platemaking and press operating through to finishing,' said Colin Le Gresley. 'Now that he has qualified, James has immediately taken up responsibility for running an eight-colour Nilpeter FB3 flexo press.'
James has thoroughly enjoyed his training across every area at the Kidderminster-based  manufacturer of high-quality self-adhesive label and tags, he explained 'It was great learning about platemaking using high tech equipment like the Esko CDI and Dantex water wash plate maker. I learned a lot about running all of our production and finishing equipment by being hands on in a real production environment, which will stand me in good stead for the future, whatever my role turns out to be.'