New controller for gluing applications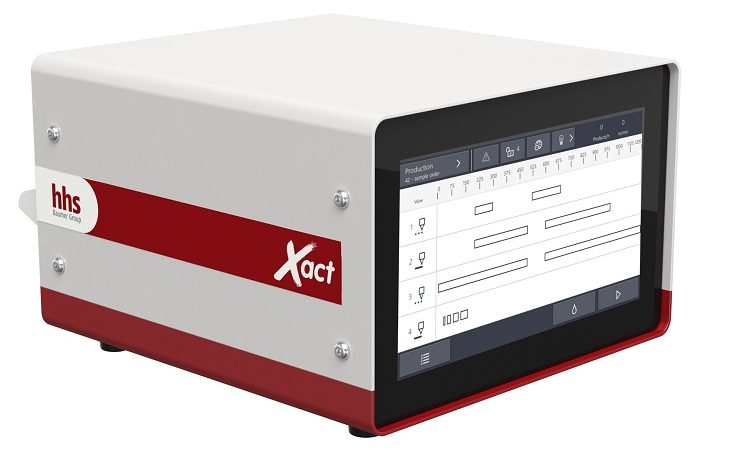 Baumer hhs has launched a new product for automated gluing, the Xact controller, capable of both simple and complex gluing applications.
According to the company, short setup times and high reliability make the new controller the ideal solution for high-precision gluing in many areas of folding carton production, end-of-line packaging and print finishing.
'Xact is the newest member of the Go product family from Baumer hhs. The systems in this line boast an excellent price/performance ratio, giving customers around the globe access to our product world. A lot of machine manufacturers prefer the Baumer hhs brand for adhesive application because it stands for exceptional reliability worldwide,' said Ralf Scharf, business development manager at Baumer hhs.
Combined with Baumer hhs cold glue or hot melt heads, Xact maintains a consistent level of precision in applying glue across the entire working width at machines speeds of up to 300m/min. Data for up to 99 sample orders can be stored in the controller and quickly retrieved via the menu for follow-up jobs. Setup time is further reduced to a minimum by how easy it is to program glue tracks, by having the pump pressure setting integrated in the controller and by the option of choosing between 30 different languages for controller operation—including for the plain-language and informative help texts and system messages.
Xact's touchscreen operation and intuitive menu navigation also reliably guide machine operators through the targeted setup. In addition, its expanded functionality offers added options which were not available with controllers designed exclusively for adhesive application. With Xact, up to eight glue tracks per application head can be programmed individually and applied either as dots or lines. With this flexibility, customers can optimise glue consumption and reduce CO2 emissions.