Nova SX laminator launched by Bobst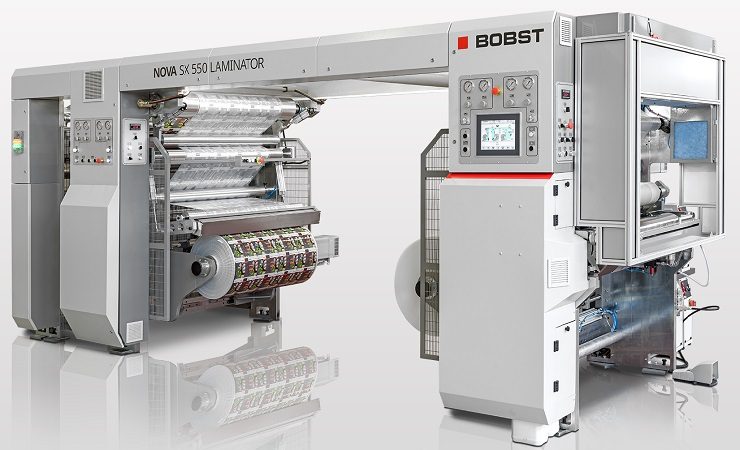 Bobst's new laminator designed for quick set up on a wide range of substrates
Bobst has launched a new solventless modular laminating machine the Nova SX 550 laminator, designed to deliver cost-effective performance for all production lengths on a wide range of substrates and thicknesses.
The Nova SX 550 laminator features a highly modular design which can be configured with either transfer rollers or sleeves or monolithic/integral rollers. It accepts the majority of existing roller types enabling converters to use their existing stock of transfer rollers.
The machine can handle a wide range of substrates and thicknesses, including thin aluminium foil, metallised film and stretchable substrates..
According to the  company, the unit provides easy and quick set-up of job parameters within 1 minute; 15 minutes for a complete job changeover; 90 seconds for a transfer roller change; and 5 minutes to complete a fully automatic washing cycle.
In addition the machine does not require foundations. It is a 'plug & play' installation that can be completed in just one week.
Job changes are fast and do not require the use of tools, while reel centring is automatic with a linear encoder. An exclusive three-column machine layout enables full accessibility to the laminating nip for quality and process inspection without stopping the machine. Its standard web widths range from 1000 to 1500mm  and speed is up to 450 m/min. It can handle reels up to 1.5 tons.
'The machine is industry 4.0-ready for post processing data,' said Nanni Bertorelli, product manager, coating and laminating product lines, Bobst Italia. 'There are four Nova SX 550 machines already sold in Italy, the Middle East, Asia and in the US. This tells us that we've hit the mark with a solventless machine that is a good market fit irrespective of local market specificities. We are confident that our innovations will make an impact.'