Abbey Labels in die-cutting world first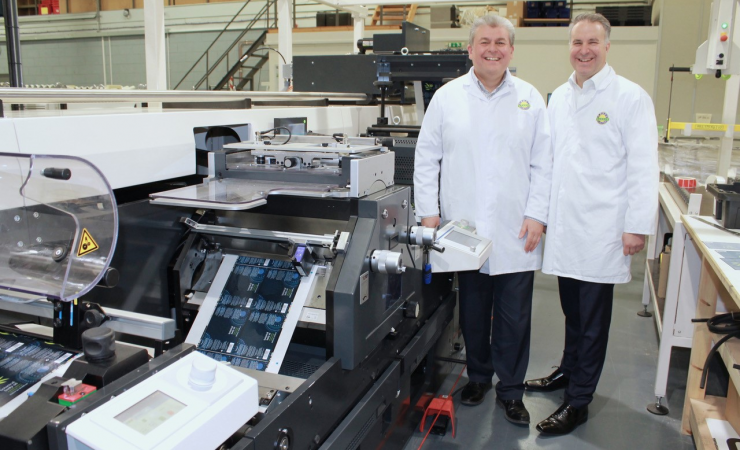 (L-R) Barry Pettit and Tom Allum believe their new die-cutting solution is a game-changer for the industry
Abbey Labels has worked with MPS Systems to integrate a high-speed die-cutting module on its newest flexo press to increase efficiencies. The innovation, which is a world first, is part of an ambitious expansion programme and will more than double the cutting speed on press.
Abbey Labels, which supplies labels to the food, beverage, cosmetics, industrial, security and pharmaceutical industries has worked closely with Dutch press manufacturer MPS Systems and finishing company AB Graphics to develop the solution.
With a top speed of 150m/min and a repeat of up to 508mm, the new semi-rotary die-cutting module enables the speed of cutting to be more than doubled compared to conventional single-anvil semi-rotary systems. Traditionally die-cutting can become a bottleneck as it slows down the speed of the press depending on the size of the die repeat, but with two anvils in operation on the Fast Track, this is no longer the case. It is also much quicker to change the die as the magnetic cylinder stays in place at all times. 
Equally important, the new die-cutting unit does not need special cutters, but can use existing ones, so Abbey Labels can run the same flexible dies across its equipment rather than having to invest in new tooling.The fast changeover fits well with the MPS EFS, which comes with many automation features, meaning that less operator intervention is needed. It offers multi-substrate capability and a print speed of up to 200m/min, printing on 15 to 450-micron media.
It has taken a few years to bring the project to fruition, but it has been worth it, says Chairman Tom Allum, 'I firmly believe that this press with this particular option is a real game-changer not only for us, but for the flexo industry.'
Along with managing director Barry Pettit, Mr Allum first came across the original Fast Track Die module at drupa in 2016, and quickly recognised the great potential that this new high-speed die-cutting unit from AB Graphic International could offer.  At the show, the module was shown on a Digicon 3 converting unit running in-line with an HP Indigo 8000 double-engine digital press. However, the Abbey Labels team wanted more than just another finishing machine with fast capabilities, they wanted the technology integrated on a narrow web flexo press for faster production of labels in one pass.
Mr Allum explained 'The Fast Track Die was demonstrated as an inline solution for a digital press when we first saw it in action in Germany. My immediate reaction was that it would be a better fit on a flexo press, which prints at much higher speeds and so could take full advantage of this super-fast die-cutting capability.'
Abbey Labels had already fostered a successful partnership with MPS when investing in its two most recent flexo presses, so it was a natural choice to approach the Dutch manufacturer with the idea. Fast forward three years and a new MPS EFS 340 flexo press with a Fast Track Die module has been installed at the company's facility to bring savings in downtime and thereby costs.
'When Abbey Labels first introduced the idea of us combining the ABG Fast Track Die with our EF platform, we had a few reservations in terms of integration and what it would involve,' added MPS UK's sales director Nick Tyrer. 'When Abbey Labels first introduced the idea of us combining the ABG Fast Track Die with our EF platform, we had a few reservations in terms of integration and what it would involve. However, our past collaborations with ABG, integrating the Big Foot flatbed hot foil system had gone very well, so we decided to give the customer exactly what they wanted.'
The new press is part of a major investment programme undertaken by Abbey Labels over the past 18 months. Over three phases the company is investing £1.1m in an AB Graphic Digicon 3 finishing line, expanding its flexo print department and then extending the facility and reorganising to optimise the workflow throughout the whole operation.