Koenig & Bauer cutter increases Ellis' output by 30%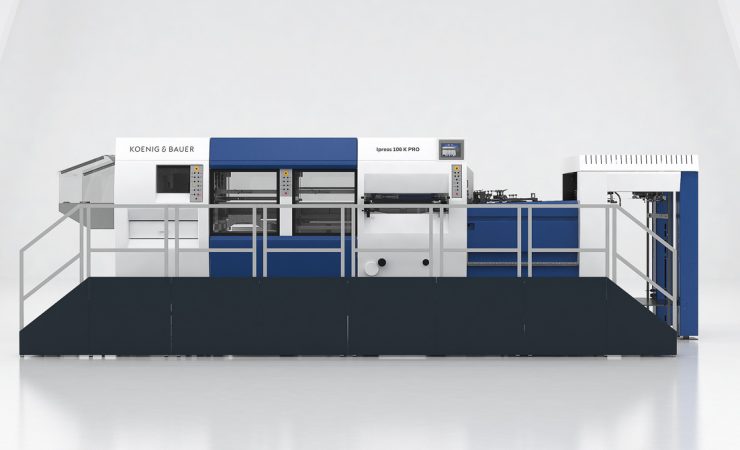 The Iberica Optima 106 K is Ellis' fourth Koenig & Bauer machine
Ellis Packaging, a Canadian company which is a member of the Ellis Group, has seen its output increase by almost a third following the installation of its fourth Koenig & Bauer-Iberica Optima 106 K die cutting machine.
Since nearly 70% of Ellis's operation is sheetfed production, it requires an efficient die-cutting department that is productive and reliable so that it can quickly process orders and move those jobs along into gluing in short lead times. Customer lead time requirements are continuously getting more demanding, the company says, and having efficient, reliable equipment in all its operating areas is critical to the firm's success. 
'Our customers demand short turnaround,' said president Cathie Ellis. 'To provide that level of quality service, we've invested nearly $15 million in new equipment. Most recently, we added our fourth high-speed Koenig & Bauer-Iberica die cutter here at our Pickering facility. Since the installation, we've seen our net output, which factors in press speed, makeready times, and down time, improve by an impressive 30%. Due to the significant improvement in our productivity, we've seen a major increase in the amount of savings because we're not running the die cutters in overtime.'
According to Ms Ellis, the Optima 106 fulfills all of those requirements. Its operator friendly controls provide ease of handling for the Ellis team. Her operators find the controls to be easier to understand and find all of the functions to handle the machine.  As such, investing in the die cutter was an easy decision for the team at Ellis. For more than two decades Iberica die cutters have made major contributions to the company's growth and replacing an existing Iberica die cutter presented only a minor learning curve to the staff. This fourth die cutter follows three new Koenig & Bauer-Iberica Optima 106 K 40-inch diecutters, two for Ellis Paper Box and one for Ellis Packaging. 
Ms Ellis was also recently named Printing Leader of the Year at the 14th annual Canadian Printing Awards. 'It was truly an honor and quite remarkable to be the first woman to receive the award. I feel that pursuit of excellence starts with a vision and is executed by quite an amazing team. My father Bill was the best mentor I could have asked for and I have continued to follow his core values and beliefs – invest in your equipment and people and the rest will take care of itself.'