Z Due joins the ProjectBlue network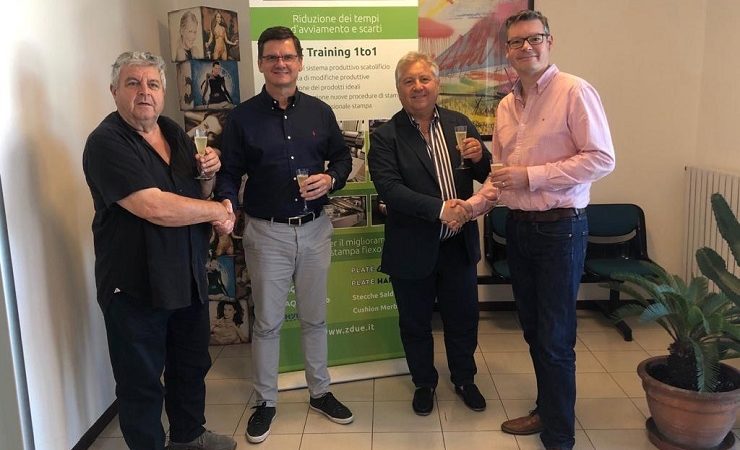 (L-R) Lorenzo Mingozzi Z Due , Trevor Lowes Reproflex3, Andrea Mingozzi Z Due, Andrew Hewitson Reproflex3
Reproflex3 has entered an exclusive partnership with Z Due in Italy and San Marino to supply its ProjectBlue ultra-high definition screening technology in these countries.
The company says that ProjectBlue enables flexo print converters to produce gravure quality print output using the flexo print process. The system also helps converters reduce changeover time, save ink and reduce repro and plate costs through fixed pallet optimisation. This flexo technology allows brand owners to tap into the agility and adaptability of the flexo production process which includes significant benefits to supply chain management. Since its invention ProjectBlue, in conjunction with its print partners has won over 50 international flexo print awards over the past four years.
Andrew Hewitson, joint managing director at Reproflex3 said, 'ProjectBlue is making significant improvement to our print partners commercial agility and growth stories. To cope with the new levels of demand, Reproflex3 has invested heavily in the ProjectBlue process to develop and streamline the technology and the quality processes achieving incredible commercial results out of flexo print process. ProjectBlue technology is now being adopted globally and I am sure it will increasingly play a major role for both brand owners and flexo print partners to achieve their sustainability commitments.
'During challenging times in the UK, namely Brexit uncertainty it is important we have a presence in mainland Europe which will allow Reproflex3 to offer the technology locally to the European flexo industry. We are delighted to have reached an agreement with Z Due who have become our exclusive Italian strategic partner for ProjectBlue as well as other screening applications.'
Marco Mingozzi, general manager of Z Due has praised the partnership, 'When we met with Trevor and Andrew we immediately found a synergy between our two companies – innovation. Z Due are strong in the cardboard sector, Reproflex3 are strong in the flexo sector, the idea of joining forces to bring ProjectBlue technology into Z Due was the trigger for the whole partnership. Both companies take a very dynamic approach to product development, which has allowed us to achieve some incredible results in just a few months. These results will facilitate a previously unprecedented uplift in image quality, print stability, environmental sustainability and cost savings being presented to our Italian print converters and brand owner market.'
Nicola Sandrolini, Z Due's ProjectBlue project manager added, 'With ProjectBlue technology we see a significant increase in optical density and shades towards zero that are comparable with if not superior to gravure, both on flexible packaging and folding cartons. These benefits, combined with an extended colour gamut available from CMYK and the savings associated with change overs, ink consumption, waste, and non-conformities will be hugely beneficial to the Italian market – furthermore, we expect 2020 to be full of even more innovations in partnership with Reproflex3.'
Mr Hewitson concluded, 'Through this partnership Reproflex3 & Z Due will create a new category of value added flexo output inside the Italian market for flexible packaging. We aim to deliver the same high quality gravure to flexo conversion process that has accelerated Reproflex3's growth around the world.
'Furthermore we are also excited to announce with Z Due's expertise and extensive capabilities in corrugated packaging, a new joint development program has begun for the corrugated pre-print and post print applications. We aim to increase both print quality and production efficiencies.'