Esko and BPIF train young converters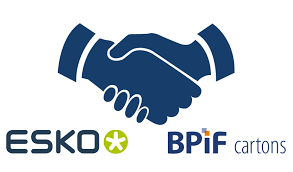 Esko and the BPIF special interest group BPIF Cartons have come together to offer a new training programme for converters looking to develop new employees and young talent.
The 'Introduction To Prepress and Structural Design' course took place at Esko's training facility in Solihull, and is the first in a range of courses set to be rolled out by the company in co-operation with the BPIF.
'We have observed a decrease of skill level – or 'deskilling' – in the industry, which is becoming a problematic trend compounded by many experienced experts reaching their retirement age and leaving the industry without formally documenting their accrued 'tribal knowledge,' said Esko sales manager Melanie Fox.
'Young people are showing less and less interest in a technical printing education, and these two trends combined result in a perfect storm that Esko, together with the BPIF, is addressing with this training programme.'
'We are delighted that Esko is providing BPIF Cartons members with this training,' said BPIF Cartons general manager Jon Clark. 'This Prepress Course means that we are now in a position to offer training covering the whole folding carton production process from board-making through pre-press, printing, inks and colour, die-making, cutting and creasing and finally folding and gluing.'