Hybrid press heads for the Baltics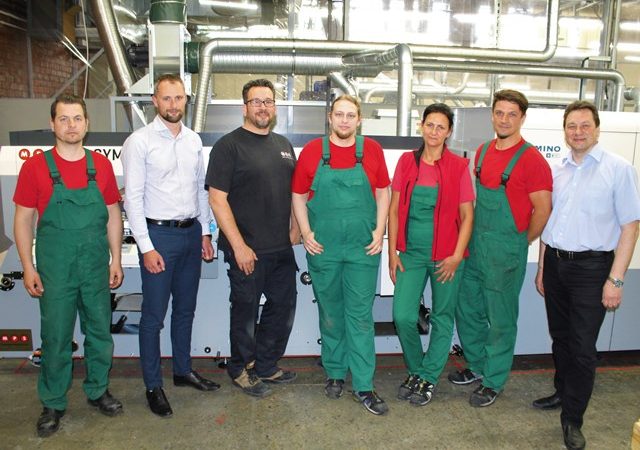 Liepajas Papirs' management and operators team during training
Latvian print company Liepajas Papirs has installed an EF Symjet hybrid press from MPS.
The machine merges the MPS EF flexo press platform with an integrated Domino N610i inkjet unit. Liepajas Papirs said that 'combining the best of both flexo and digital inkjet printing', has helped save material and labour costs.
The company previously installed an EF 340 UV flexo press, also from MPS, in May 2018, reporting that the press proved 30% more productive than any of their existing UV flexo presses. 
'Our journey towards hybrid printing began at Labelexpo 2017, where we truly recognised the substantial improvements UV inkjet printing has made in recent years,' explained production manager Juris Hoijers. 'We began discussions with Domino regarding a possible future investment in their inkjet press, at the same time a new MPS EF 340 UV flexo press was installed at our factory. When we learned Domino and MPS offered a hybrid press combining UV inkjet and flexo printing, choosing the EF Symjet became an easy decision.'
Liepajas Papirs values hybrid printing as the method allows it to print shrink films, add flexo spot colours and spot varnishing as well as eliminating most post-press processes. In addition, ink costs are controlled by replacing large solid areas with less expensive flexo UV inks.