Nilpeter celebrates centenary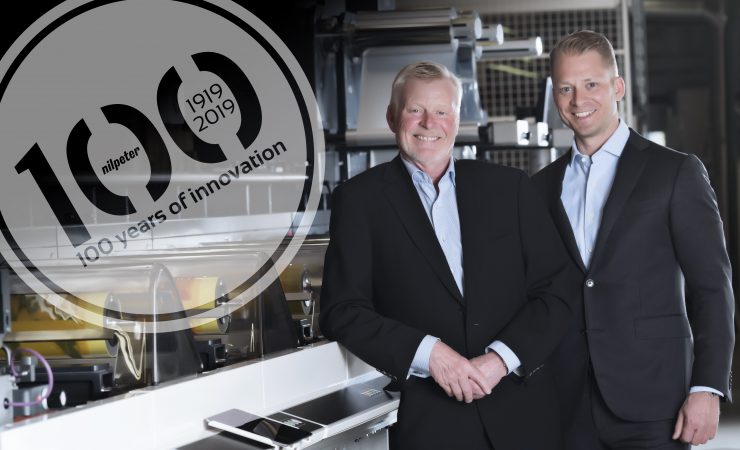 100 years in the making, Nilpeter remains a family-owned business with Lars Eriksen and Peter Eriksen, the third and fourth generation of owners, at the helm
Nilpeter will celebrate its 100th anniversary in May this year. The Danish manufacturer intends to turn the whole of 2019 into one long celebration, marking the anniversary in various ways and celebrating with employees, customers, partners and suppliers.
Founded by two old friends in 1919, Nilpeter started out servicing newspaper printing machines in central Copenhagen, before launching its first semi-rotary printing press, The Simplex, in 1924, which in various versions remained part of the company's product range until the 1970s.
With the introduction of self-adhesive substrates, Nilpeter targeted its business towards the label market, and the rest is history. To this day, it remains family-owned and -managed, with Lars Eriksen and Peter Eriksen, father and son, and the third and fourth generation of owners, leading the company towards new historical milestones.
'The Nilpeter brand is positioned stronger than ever due to years of important partnerships and product innovations,' said president and CEO Lars Eriksen. 'We value partnerships – with customers, suppliers, and industry partners alike. We strive to share our experience and work closely with leading technology providers, in order to generate value with and for our customers. Inspired by the latest technological trends, our skilled, intelligent workforce is constantly developing and implementing new solutions, allowing us to remain a driving, innovative force in the printing industry. While we benefit from 100 years of experience, we are not rooted in what has worked in the past, but focused on what will work in the future. That is the essence of … your printing partner.'
Today, the company manufactures printing presses for labels and flexible packaging on three continents: Europe, North America and Asia.