More companies drawn to Parkside's sustainable packaging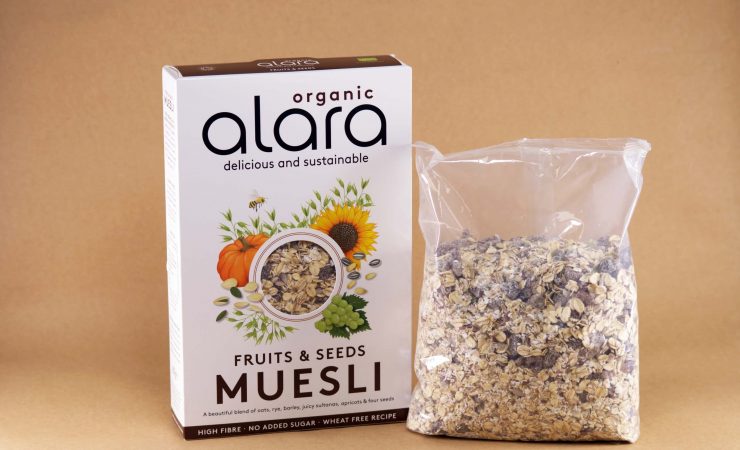 The combination of cartonboard and Parkside's compostable liners means that the packs are one of the most sustainable packaging solutions on the market
Percol Coffee and Alara are just two brands who are using Parkside Flexible's compostable packaging materials to enhance their sustainability commitments.
Parkside developed a clear, duplex, home compostable, high barrier paper laminate to replace Alara's existing petrochemical based polyester/polyethylene inner liner.
For Percol the company developed packaging made from bio-based materials, the packs provide excellent oxygen, aroma and moisture barriers that extend the shelf life of roast, ground and bean coffee, whilst maintaining flavour. The packs are fully home compostable and designed to break down within 26 weeks, gaining accreditation from TUV (formerly Vincotte).
Parkside's compostable laminates are durable and impermeable just like traditional plastic packaging, making them safe to use for food packaging and come in a range of aesthetic options including white, matt, clear, metallised and kraft.
Developed to support Percol's vision of being ethical innovators by delivering plastic-free packaging, the collaboration wth Parkside has enabled the company to become the first coffee brand in the UK to receive the 'Plastic Free Trust Mark' from A Plastic Planet.
Percol managing director, David Brooks, said, 'As a company, we strive to be ethical innovators and leaders in the coffee market. This ethos stretches across both product and packaging and was a key reason for choosing to work with Parkside.'
Mr Brooks continued, 'Our new compostable packaging takes us to another level and has positioned us right at the forefront of the market as the only coffee company to receive the Plastic Free Trust Mark.'
The Percol coffee pack adds to the ever-expanding portfolio of Park2Nature compostable packaging solutions Parkside currently provides.
Paula Birch, sales director at Parkside, said, 'This was a fascinating project for us to be involved with. The ethos and values which surround Percol align perfectly with our Park2Nature range allowing us to create an amazing product for them. It is also fantastic that the packaging has become the first to be accredited by A Plastic Planet.'
Alara's managing director, Alex Smith, commented, 'These new liners are officially certified as home compostable in line with our ethical philosophy. Our aim is to always use sustainable and recyclable packaging, so we could not turn down the opportunity to work with Parkside and incorporate their innovative compostable liners into our packs.'
Produced in the UK and sold in leading retailers, Ocado, Wholefoods Markets and Sainsbury's, the organic muesli range from Alara uses cartonboard outer packaging manufactured from renewable raw materials and is 100% recyclable. The combination of cartonboard and Parkside's compostable liners means that the packs are one of the most sustainable packaging solutions on the market.