Uflex purchases Edale 10-colour FL3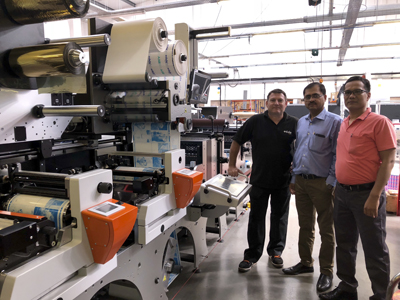 The Edale 10-colour FL3 will be used to produce security labels 
India's largest flexible packaging company, Uflex, has invested in an Edale 10-colour 350mm FL3 flexographic press.
The company acquired the FL3 to produce security labels so was looking for a solution that would deliver sustained quality and ensure high reliability.
Edale's sales and marketing director Darren Pickford, commented, 'This new press order is a testament to Edale's continued commitment to the Indian market and is a valued addition to our growing machine install base within the region. We are proud that a company of the size and stature of Uflex values the support and quality of our equipment, we are excited to continue working with them.'
To guarantee reliability and repeatability, Uflex has also selected to motorise the x and y register as well as all the pressure settings, which will allow the future upgrade to Edale's AiiR technology. AiiR (autonomous inking, impression and print registration) uses precision camera technology to improve registration accuracy, while automated print pressure control reduces wastage and set-up times.