Flexcel NX System donated to Stuttgart Media University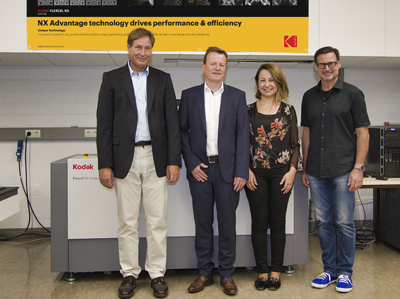 (L-R) Professor Volker Jansen, Stuttgart Media University; Roland Hamacher, division sales manager EAMER, Flexographic Packaging Division, Kodak; Nilgun Turan, marketing manager EAMER, Flexographic Packaging Division, Kodak; and Professor Martin Dreher, DFTA
Kodak has donated a Flexcel NX Mid System to Stuttgart Media University in Germany to enrich the practical content of the University's relatively new international degree course in Print Media Technologies.
The course focuses on future and growth-oriented segments in the print media industry, such as smart printing in a wide range of packaging and industrial applications. The curriculum also embraces natural sciences and business basics. All technical courses are supported by the Technology Center, where students can gain practical experience in research, development and production.
'The industry needs competent young talent, familiar with the newest production processes as well as with future trends in packaging printing and other growth markets – not just in Europe but throughout the world. Our aim is to get young people worldwide enthusiastic about the world of print and produce highly qualified graduates to work in emerging international markets. As far as we're aware, Stuttgart Media University has access to better and more extensive hardware than any other higher education institution worldwide offering courses in print technology,' said Volker Jansen, academic dean and professor of Print Media Technologies. 'The Flexcel NX System from Kodak will significantly support our efforts to elevate our practical options in packaging printing to the latest technological standard.'
The Flexcel NX System in Stuttgart will also be made available to the German Flexographic Technical Association (DFTA) – which shares premises with the university – for test and training purposes. 'This donation will allow us to demonstrate state-of-the-art flexo platemaking in our own Flexo Academy courses,' commented professor Martin Dreher, scientific director of the DFTA Technology Center and Director of the DFTA Flexographic Academy.