Heaford makes new appointments in engineering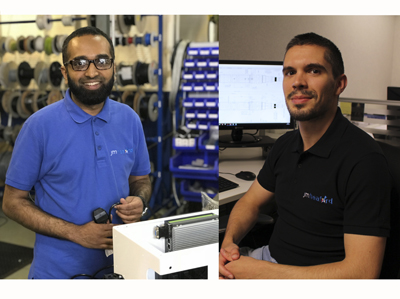 (L-R) Osama Ismail, service engineer and Alistair Moore, design engineer
JM Heaford has made two new appointments of an additional service engineer and new design engineer to meet continued growth. 
Osama (Ozzy) Ismail has joined the team as a service engineer covering global territories. With a degree in electrical and electronics engineering, he is a member of both the Institute of Engineering and Technology (MIET) and the Chartered Management Institute (MCMI). Mr Ismail previously worked at Cobble Van De Wiele, manufacturer of tufting machines for the textile and flooring industry, where he held the position of senior field customer support engineer.
 
To the role of design engineer, JM Heaford has appointed Alistair Moore. In his new role he is tasked with maintaining continual product development to provide tailored engineering solutions to meet the ever-changing needs of customers. A graduate of electrical engineering from Reading University, Mr Moore previously held the roles of design engineer for Gencoa, a supplier of systems for the vacuum coating markets, and development engineer for specialist component manufacturer, Truflo Marine.