Edale re-introduces G-Sight as 'RFID Specialists'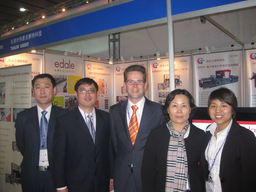 Managing director, James Boughton, alongside staff from Tianjin G-Sight Technology
Hampshire-based Edale has announced the signing of Tianjin G-Sight Technology which will represent the RFID machine side of the press manufacturer's business proactively throughout China.
With a strong background in commercial security applications G-Sight will be focused solely on the sales of Edale's RFID converting lines. Having been signed up with the company for a number of years there is now an agreed strategy defined to focus on the RFID market; this is a growing area in China and one in which Edale are keen to exploit.
'We are delighted to have collaborated with G-Sight to develop a strategy which we hope will see our range of RFID converting lines sell throughout China. Its experience and knowledge of security led applications and machinery sales make it an ideal fit, and we look forward to forging a long lasting partnership,' said James Boughton, managing director.
Since this new strategy was put in place, the Chinese company has sold and installed a Lambda converting line to a company, which cannot be named for confidentiality reasons, who will use this to produce travel and transport tickets.
As demand for RFID labels and tickets increases, Edale's approach simplifies the RFID insertion process, aligning it more closely with its conventional web based printing and converting technology. The set up of the machine is modular based which can be adapted exactly to meet customers' requirements, enabling the user to make changes to the original machine configuration in response to market and application changes.
www.edale.com