Leissing and Bobst introduce large format foil stamping machine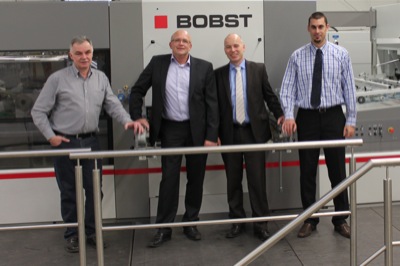 In front of the Expertfoil 142 (from left to right): plant manager Klaus Duda with Norbert Schulz, managing director of Leissing Druckveredelung GmbH & Co KG, and Volker Claus and Christophe De Gaillande of Bobst.
With the Expertfoil 142, Leissing Druckveredelung GmbH & Co KG now possesses a foil stamping machine for the 1420 x 1020 mm format. After ordering the machine from Bobst in early 2012, the company took delivery of it at its headquarters in Landau in the German Palatinate, where it is now in productive operation.
'Installation ran on schedule and as smooth as clockwork,' said Norbert Schulz.
Above all, both Leissing and its demanding customers, which include brand manufacturers in the confectionery, cosmetics, pharmaceuticals and tobacco industries, appreciate the economic advantages of the Expertfoil 142. Because the company can now perform all work in 1420 x 1020 mm format, this means a significant productivity gain and can even determine the economic viability of jobs with particularly tightly costed margins. What is more, the new foil stamping machine allows Leissing to finish many large format printed products such as display cards in a single step. Last but not least, the machine excels through its high level of energy efficiency because it works with a sheet format that is twice as big as that employed by the largest foil stamping machines previously available. 'It makes little sense to print and die cut in 1420 x 1020 mm format if we subsequently have to surrender the advantages of this format and scale down to format 3B during the finishing stage,' explained Mr Schulz.
The Expertfoil 142 also boasts strengths such as its extremely high stamping pressure of 600 tonnes (6.0 MN) and its production speed of 5000 sheets per hour which, combined with the large format, ensures the machine's productivity. It is versatile enough to process a wide range of varied printing stock – from paper of 100 g/m2 through to solid board weighing up to 2000 g/m2, and on to corrugated board up to a thickness of 2 mm.