Clondalkin Largo adds Fix-a-Form to its range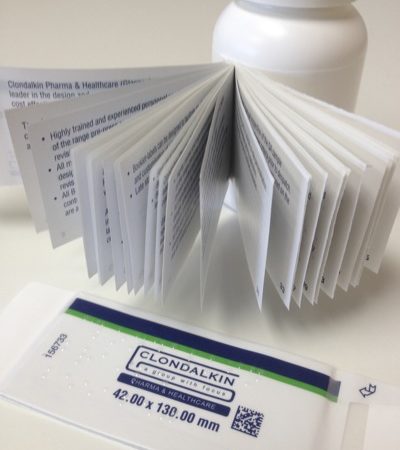 Fix-a-Form combines an ordinary printed leaflet with a self-adhesive label to create a leaflet label or multi-page label
A licensing agreement has been entered into to include the multi-page booklet labels, Fix-a-Form, within the existing Clondalkin Largo range of Extended Content Labels.
The ability to manufacture the booklet labels will expand the company's Extended Content Label capabilities within the pharmaceutical, healthcare, food, beverage and cosmetic markets.
Mike Barrett, general manager, said, 'We are delighted to add Fix-a-Form multi-page booklet labels to our ever widening range of extended content labels.  The demand for this type of product is growing consistently within the markets that we serve and we are already well known for this type of product. The Fix-a-Form product range will be welcomed by our existing customers and further cements our position as a market leader for extended content solutions.'
The product combines an ordinary printed leaflet with a self-adhesive label to create a leaflet label or multi-page label. A network of label manufacturers produce the extensive range of custom printed labels on its bespoke machinery. Offering high quality, cost-effective label solutions to a wide variety of manufacturers and brand owners.
Devised by UK parent company, Denny Bros Ltd, the product was designed originally in response to the needs of a local agrochemical company; the product offering quickly expanded establishing widespread growth in the UK. Due to high demand across a variety of industry sectors, Fix-a-Form International Ltd was established to promote worldwide availability via carefully selected local manufacturers appointed under an exclusive licence.
Managing director, Andrew Denny, added 'We are excited to welcome a further Clondalkin Group member to our network of Fix-a-Form providers. This appointment forms part of our strategic growth plan to serve the increasing demand for high-quality ECL / booklet labels in North America. The Florida team are highly innovative and experienced in providing custom printed solutions. Our custom booklet label manufacturing equipment will enable them to provide a diverse range of paper and laminated ECL constructions to broaden their already extensive product offering.'